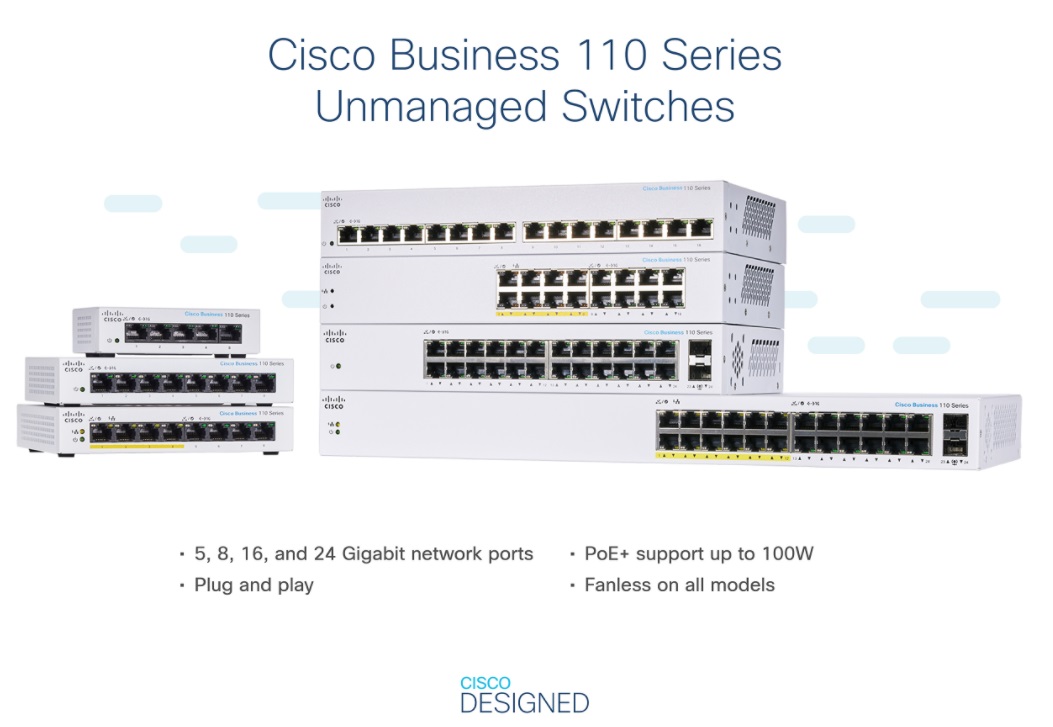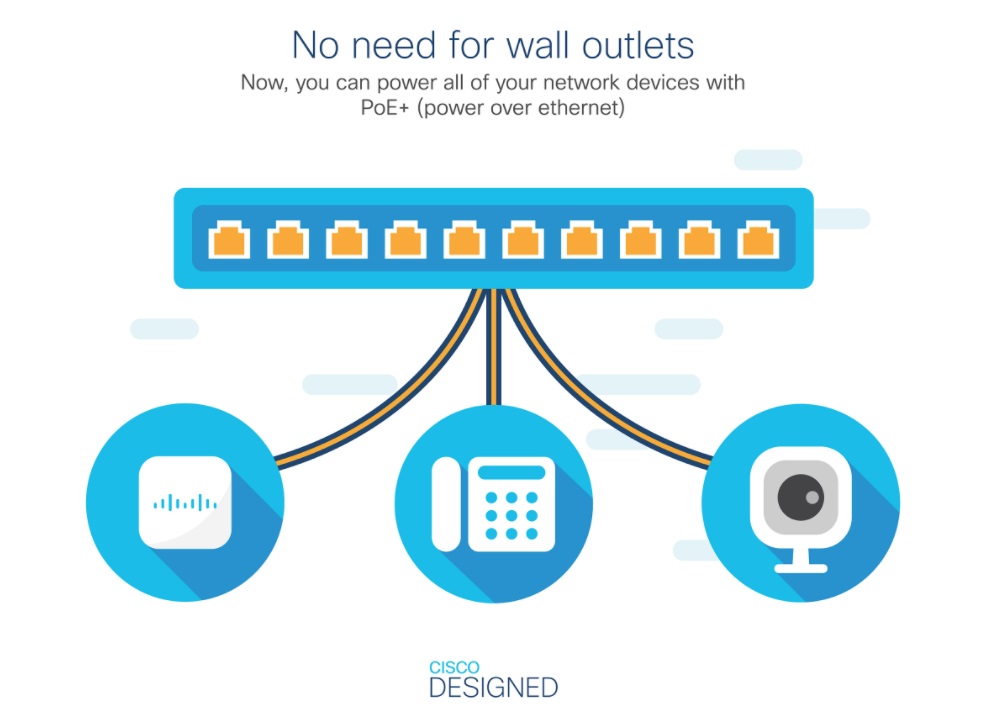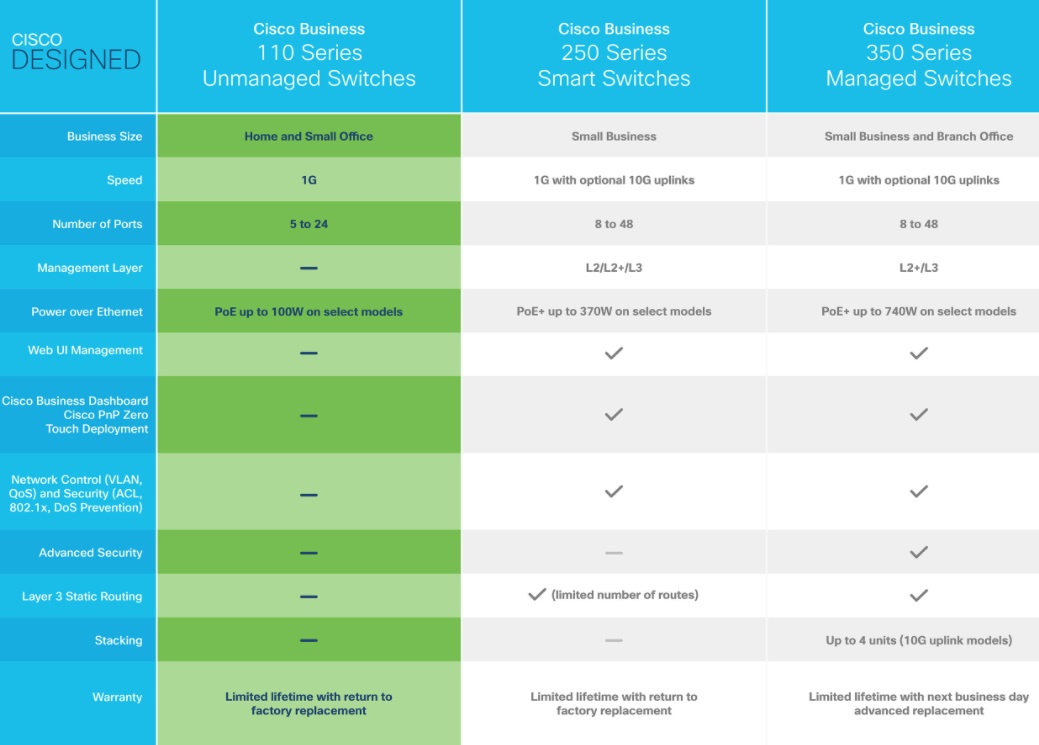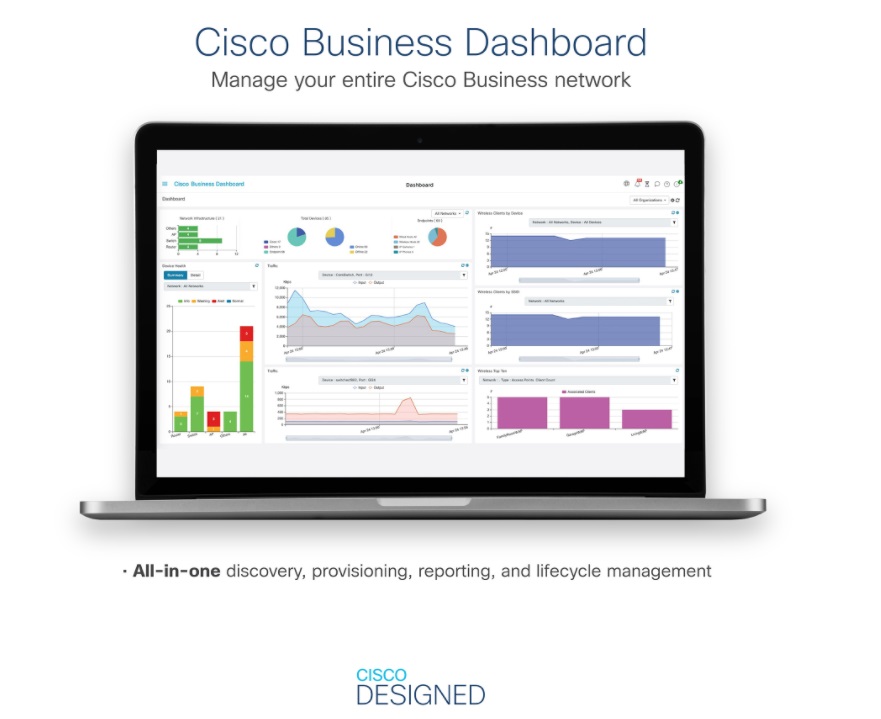 Cisco CBS110-24PP-UK 24 Gigabit ports (12 support PoE with 100W power budget) with 2 Gigabit SFP Port (combo with 2 Gigabit ports) switch
Item Code: WEB-ITM-0559
AED 1,143.00 (AED 1,143.00 / Unit)
To

click cisco business shop and click add to card on item there
Short Description
SWITCH PORTS: 24 -Port Giga + 2 x 1GE SFP (Shared)
SIMPLE: Plug and play without a need for IT know-how or support.
POWER OVER ETHERNET: 12 PoE ports with 100W total power budget
PERFORMANCE: Gigabit Ethernet and integrated quality-of-service (QoS) intelligence optimize delay-sensitive services and improve overall network performance.
CREATIVE DESIGN: Elegant and compact design, ideal for installation outside of wiring closet such as retail stores, open plan offices, and classrooms


CBS110-24PP Cisco Business Switch by Shouki Company
CBS110-24PP is here in shouki website with all its specifications. Dubai distributor of Cisco Shouki Company supplies Cisco CBS110-24PP. Cisco Business 110 Series switches provide an easy-to-use solution for your small business network. They offer:
● Simple: Cisco Business 110 Series switches work right out of the box, with plug-and-play capability without software installation and configuration. Each switch port independently sets itself for the optimal speed and determines whether to run in half- or full-duplex mode automatically. As a standards-based Cisco solution, Cisco Business 110 Series switches are also designed to immediately accommodate all of the devices in your network.
● Peace of mind: Cisco Business 110 Series switches deliver the rock-solid reliability you expect from a Cisco switch. The solution has been rigorously tested to make sure of optimal uptime and performance. In addition, the limited lifetime hardware warranty provides peace of mind.
● Power over Ethernet (PoE): Cisco CBS110-24PP switches are available with PoE ports. This capability simplifies the deployment of IP telephony, wireless, video surveillance, and other IoT solutions by allowing you to connect and power network endpoints over a single Ethernet cable. With no need to install separate power supplies for IP phones or wireless access points, you can take advantage of advanced communications technologies more quickly and at a lower cost.
● Reduced energy costs: Cisco Business 110 Series switches are designed to help conserve energy by optimizing power use without compromising performance, which protects our environment and reduces your energy costs. In addition, they support the Energy Efficient Ethernet (IEEE 802.3az) standard, which reduces energy consumption by monitoring the amount of traffic on an active link and putting the link into a sleep state during quiet periods.
General specification of Cisco CBS110-24PP


Efficiency
Supports Energy Efficient Ethernet (IEEE 802.3az) standard, which optimizes power use to conserve energy without compromising performance.
Performance
Gigabit Ethernet and integrated quality-of-service (QoS) intelligence to optimize delay-sensitive services and improve overall network performance specially for CBS110 24PP.
Affordability
Entry-level switches at affordable small business prices.
Product comparison for CBS110 24PP


For more details you can go to the Cisco official website. You can also compare CBS110-24PP
with 2 related items ASR1002X-CB and MX68-HW.
How to purchase CBS110-24PP
All Cisco and other related items are ready in Cisco Wholesaler in Dubai. If you are in Middle east countries or cities like Zimbabwe, Angola or Djibouti, please feel free to contact us.