Cisco SF550X-24P 24-port 10/100 PoE Stackable Switch
SMB-Managed POE Switches Item Code: SF550X-24P-K9
SF550X-24P-K9
SF550X-24P-K9 is one of
Ciscos
new generation stackable managed Ethernet
switches
. BUY SF550X-24P-K9
As your business grow; customers and employees depend on your business more than ever before. thus a slow or unreliable network would be a hindrance to your development. You need an IT backbone that provides excellent performance, nonstop availability, and advanced security. The ideal network will be easy to manage, support advanced features that will grow with your company. It also ahould be at a price that's affordable.
SF550X-24P-K9 provides 24 ports with 10/100 (PoE+) and 2 ports of 10Gigabit SFP+ (uplink) plus 2 of combo 10GBase-T (uplink). It contains 8 units per stack.
SF550X24PK9 software supports a 512 MB Ram, 9KB Jumbo Frame Support, 195 W PoE Budget and MD5, SSL Encryption Algorithms.
SF550X-24P-K9 have capacities such as:
VLANs supported: 4094 and QoS hardware queues: 8 and IPv4 routes (static): 7000 and IPv6 routes (static): 7000 and ACL rules: 3000 and IP router interfaces: 256 and QoS hardware queues: 8
Cisco also offers services like: limited warranty for 1year, technical support, phone consulting, replacement, web support for life time.
Cisco 550X Series switches break the barrier of 10 Gigabit Ethernet adoption by providing affordable and flexible configurations. customized for the demanding network requirements of small and medium businesses.
With 10G copper ports on the SF550X-24P-K9 switches, you can easily and cost-effectively enable 10.G connections to servers and network storage devices with standard RJ-45 Ethernet cable. You can also connect your SG550X access switches to the SX550X aggregation with 10G SFP+ fiber, building a high-performance backbone to speed up the overall operation of your network.
550X Series integrates a variety of power-saving features across all models, providing the industry's most extensive energy-efficient switching portfolio. These switches are designed to conserve energy by optimizing power use, which helps protects the environment and reduce your energy costs. They provide an eco-friendly network solution without compromising performance.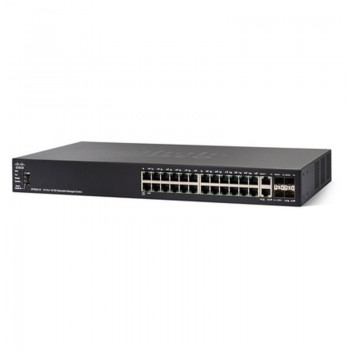 BUY SF550X-24P-K9
If you run a business and you need a better network device, you should buy SF550X-24P-K9. It's the latest technology of cisco with a reasonable price.
Most technicians recommend their clients to buy cisco SF550X-24P-K9 for better services.
You can easily order SF550X24PK9 online on our website.