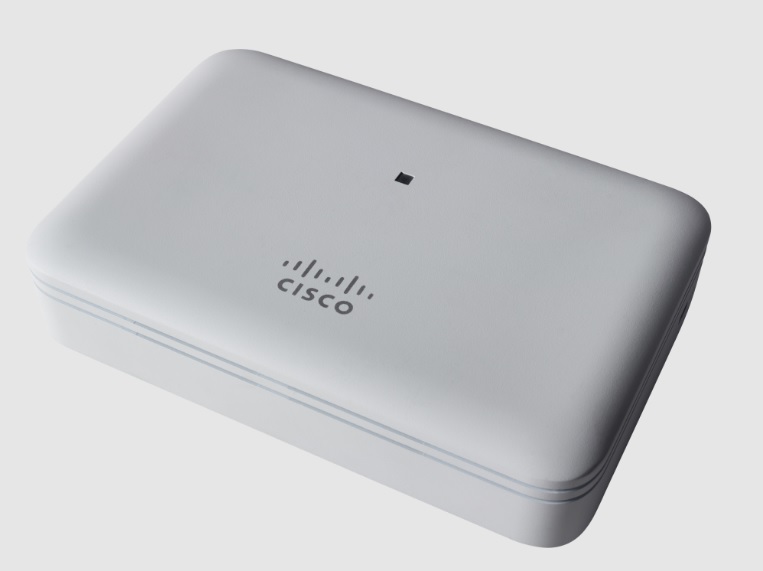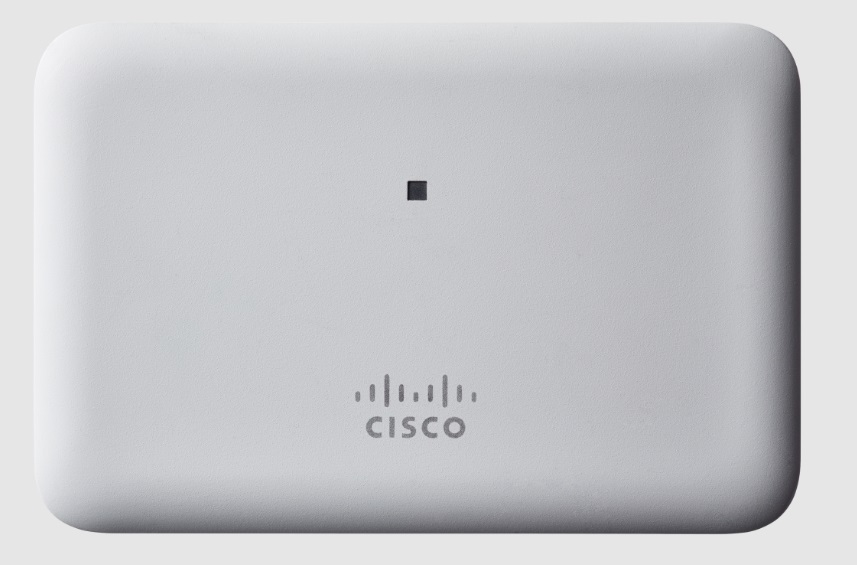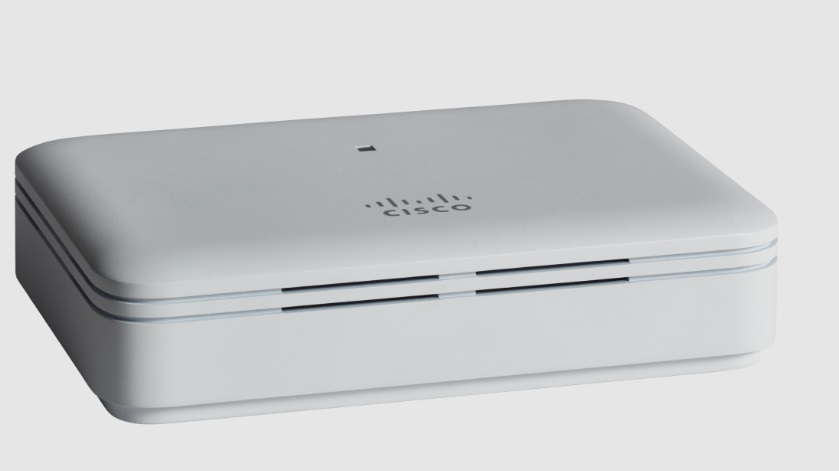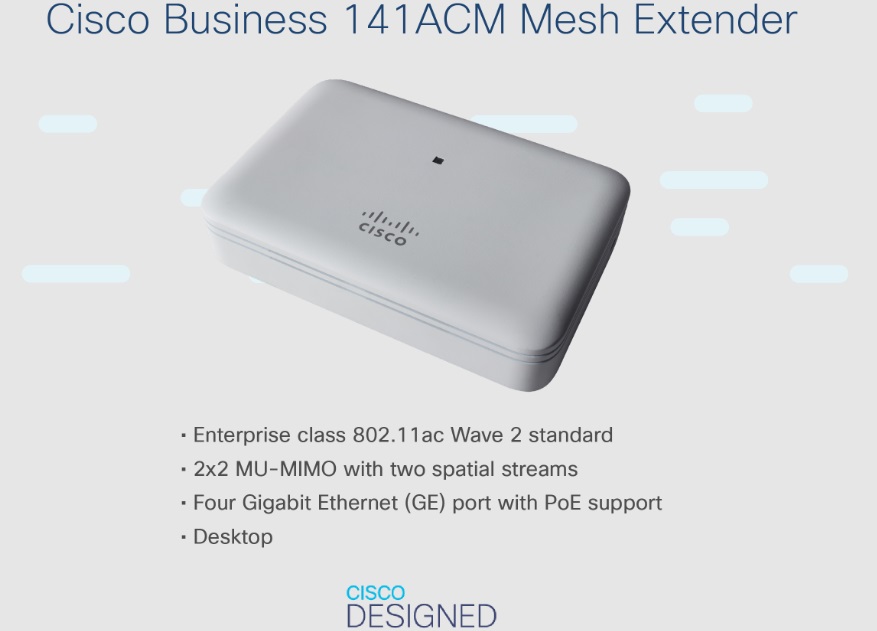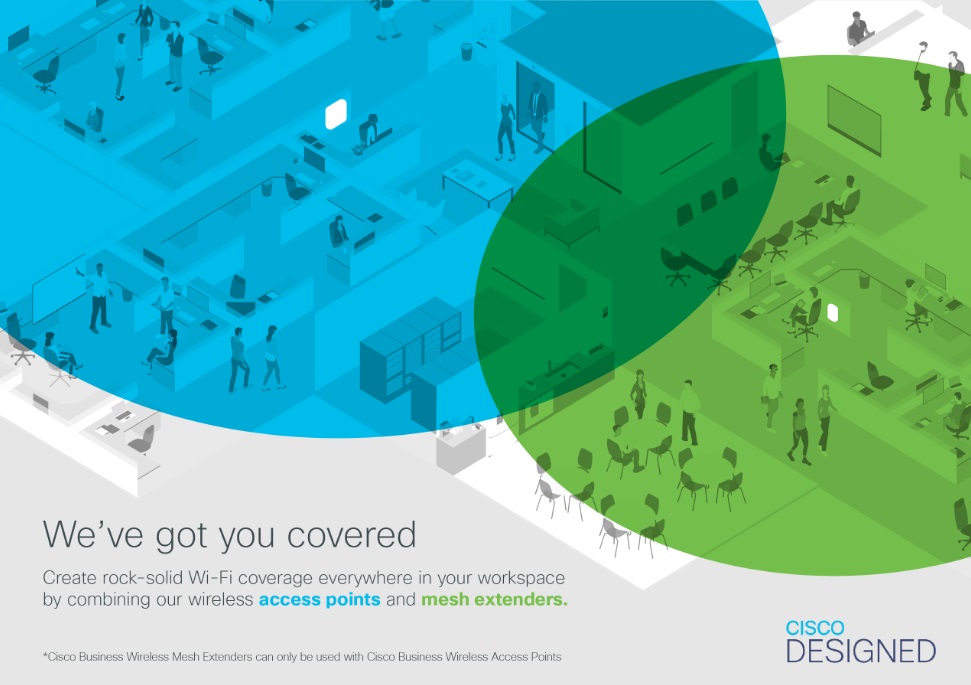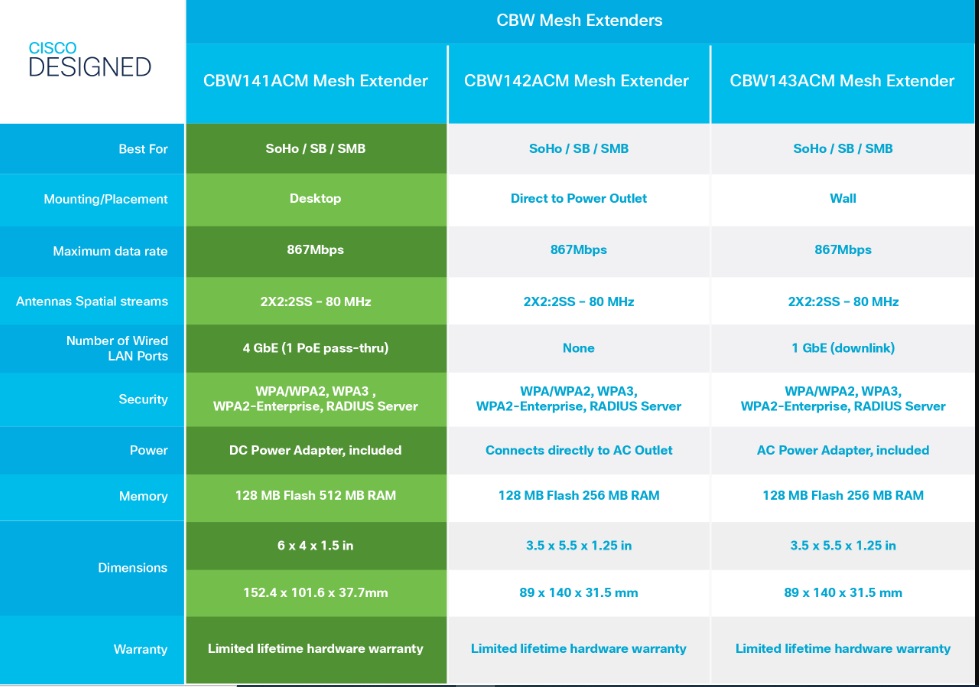 Cisco CBW141ACM-E-UK Business 141AC Wireless Extender-Desktop, 802.11ac Wave 2; 2x2:2 MIMO
Item Code: WEB-ITM-2768
AED 755.00 (AED 755.00 / Unit)
Short Description
IMPORTANT: The Cisco Business mesh extenders only work with Cisco Business Wireless 100 series and 200 series access points (CBW140AC-B, CBW240AC-B, and CBW145AC-B)
FLEXIBLE: Mix and match Cisco Business Wireless access points and these MU-MIMO (2x2) mesh extenders to increase your Wi-Fi coverage
QUICK SET UP: Scan a QR code with Cisco Business Mobile app, and power on the device. No additional steps required
DEPLOYMENT: Flexible deployment with integrated 4port GE switch helps power IP phone or other IP power devices (DC Power adapter included)
PEACE OF MIND: One-year technical support and limited lifetime warranty
Cisco CBW141ACM-E Mesh Range Extender Shouki Electronics
All models of CBW141ACM-E or Cisco Business 141ACM are here for you. Mesh Extender CBW141ACM-E is supplied by Dubai Partner of Cisco Shouki Electronics. Build with simplicity and flexibility in mind, the Cisco Business 141ACM Series Mesh Extenders expand the deployment of traditional wireless networks while reducing deployment costs. Also, perfect for use within a small office or back office, they provide connectivity to both local and cloud-based services. When paired with a Cisco Business access point, this model Mesh Extenders provide a highly secure and seamless wireless end-user experience.
Features and benefits of Cisco Business Mesh Wifi Extender CBW141ACM
Mesh technology support
Mix and match Cisco Business mesh extenders or access points to increase WiFi coverage throughout your business for Mesh Extender 141ACM
Two-step setup
Simplified deployment with two-step setup: Scan a QR code via the Cisco Business Mobile app, and power on the device. No additional setup is required
Advanced features and performance of 141ACM
The Mesh Extender 141ACM allows wired access via a single RJ-45 10/100/1000 auto detection port. This mesh extender come with three local Gigabit Ethernet ports and one up link Gigabit Ethernet port, allowing for a variety of connections. This Cisco Business product comes with a limited lifetime hardware warranty. Also, product warranty terms and other information applicable to Cisco products are available at Cisco official web page.
Requirements:
Requires a Cisco Business access point within the network for mesh connectivity
Maximum clients:
Maximum number of associated wireless clients: 200 per Wi-Fi radio, for a total of 400 clients per access point
Indicators for Cisco CBW141ACM-E
Status LED indicates boot loader status, association status, operating status, boot loader warnings, and boot loader errors
More information and comparison for Cisco Mesh Extender CBW141ACM-E
For more details you can go to the Cisco official website. You can also compare Mesh Extender CBW141ACM-E with 2 related items WAP125-E-K9 and WAP371-E-K9
How to place order of Mesh Extender 141ACM
All CBW141ACM-E Mesh Extender of Cisco Business 141ACM and other related Cisco items are ready in Cisco Partner in Dubai Shouki Electronics LLC. If you are in Middle east countries like Azerbaijan, Sharjah or Burkina Faso, please feel free to contact us.
Product Details
| | |
| --- | --- |
| Weight | Access point without mounting bracket or any other accessories: 10 oz (280 g) |
| PoE Output | 802.3af: 15.4W at port |
| Available transmit power | 2.4 GHz - Up to 20 dBm; 5 GHz -Up to 20 dBm |
| flash | 128 MB |
| Dimensions | Access point (without mounting bracket): 3.25 x 4.5 x 0.75 in (82.5 x 114 x 19 mm) |
| Power Input | 5V 2A DC |
| Power Draw | 8.5W (maximum, without PoE) |
| DRAM | 512 MB |
| processor | 710-MHz quad-core |
| Ethernet Ports | None |
| Maximum clients | 200 per Wi-Fi radio, for a total of 400 clients per access point |