Cisco SF352-08 8-port 10/100 Managed Switch
SMB-Managed Switches Item Code: SF352-08-K9
General introduction to Model: Manage Switch SF352-08-K9 or CISCO SF352 08
Here is the new generation of Cisco Small Business manage switch SF352 08. The Dubai CISCO Partner delivers all 350 Series to all Middle East countries. CISCO SF352-08-K9 is a portfolio of affordable managed switches that enables the best solution for business network used broadly for SME's.
It is a device with simple configuration and easy to deploy. For the warranty term CISCO offers software application updates. It is fully applicable for bug fixes.
Product Characteristics of CISCO SF352-08-K9
The Mange Switch SF352 08, propose more ports per
Gigabit Ethernet switch. It is Energy Efficient Ethernet (IEEE 802.3az) standard. As a link is down, Automatic power shutoff on ports. To save power, LEDs could be turned off. Security is another important issue for this Manage Switch. Security for desktop connectivity, wireless connectivity and guest connectivity.
Advantages of Manage Switch SF352-08-K9
-         You as an owner can easily manage and deploy it
-         It is equipped with a smart port intelligence automatically
-         It discovers any CISCO devices anywhere at anytime
-         SSL (Secure Sockets Layer) is available for this model
-          It also supports Text view and CLI option
-         Troubleshoot and management is simple and quick by graphical interface
-         SNMP is a main item in SF352 08
-         Take it easy nonemployee people can connect securely and independently
-         If attack happens DoS of this powerful model prevents it immediately
-         Support for IEEE 802.3ad Link Aggregation Control Protocol (LACP)
-         Support for up to 4096 VLANs simultaneously
-         IEEE 802.1X port as advanced network security application
-         consistent interface by Web-based authentication to authenticate all types of host devices and operating systems
-         Dynamic Address Resolution Protocol (ARP) inspection as Advanced defense mechanisms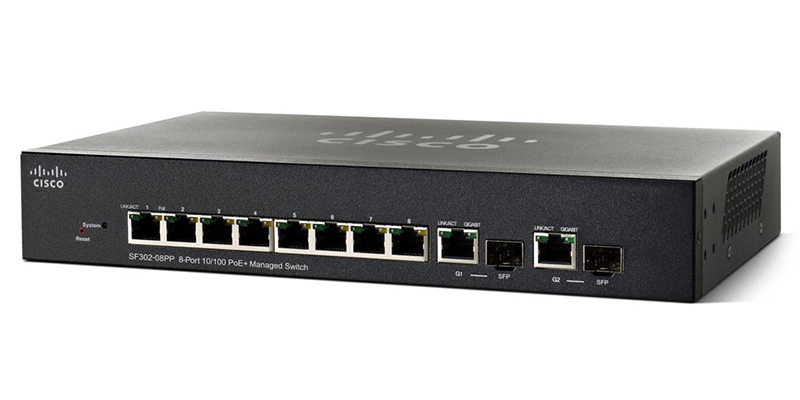 More details and comparison:
How to purchase CISCO SF352 08
All CISCO SF352-08-K9 and thousands of newest models are available in CISCO wholesaler in Dubai, UAE. You can also place your order from our partner in Middle east like, Pakistan, Ivory coast or Yemen.