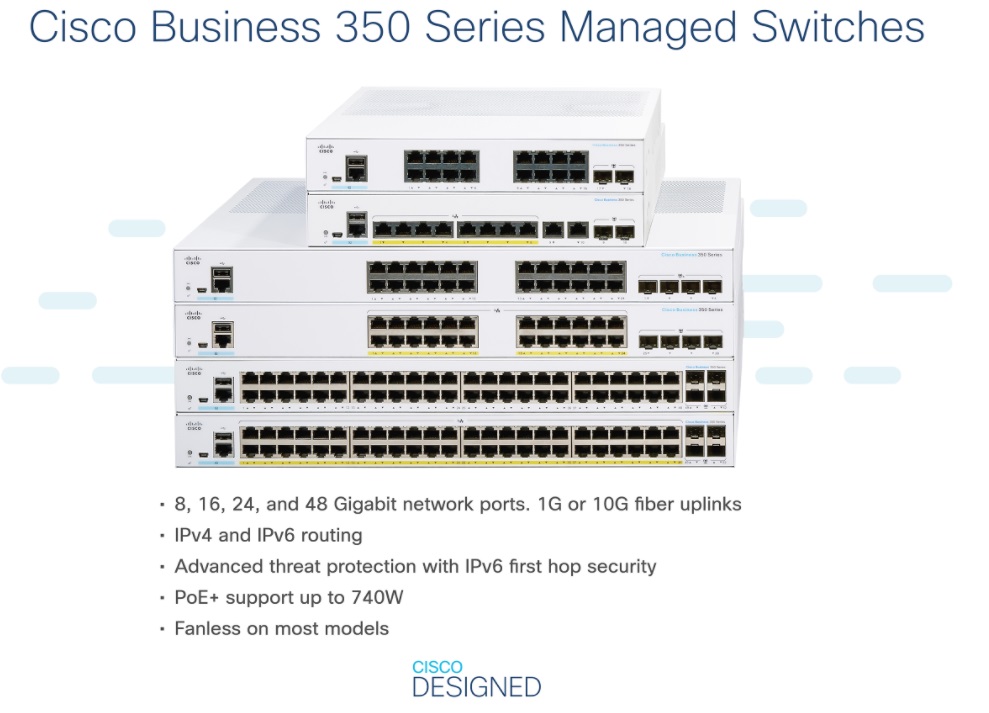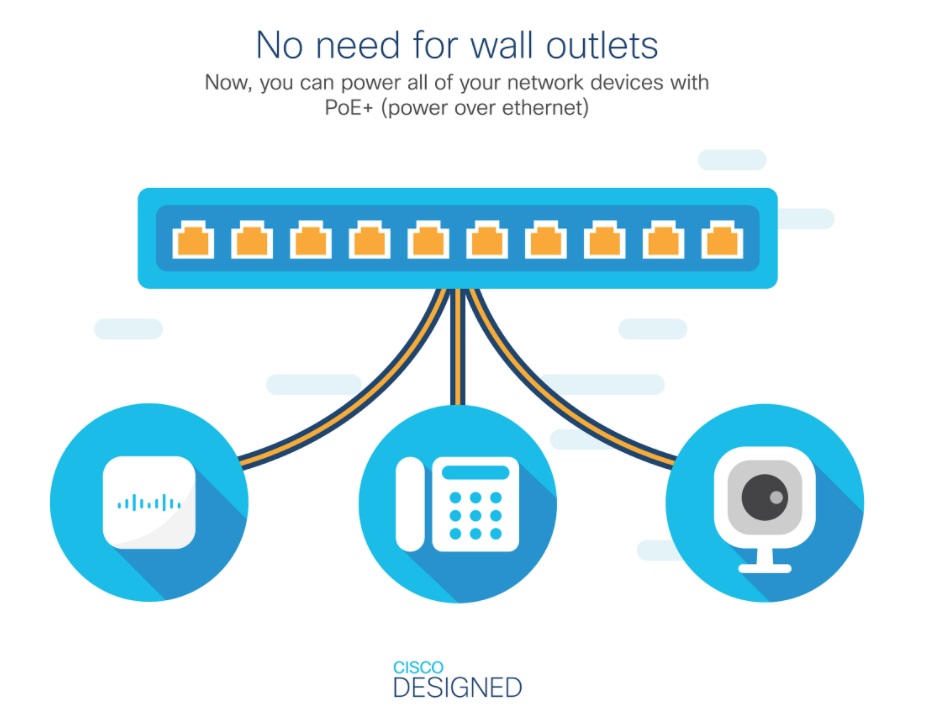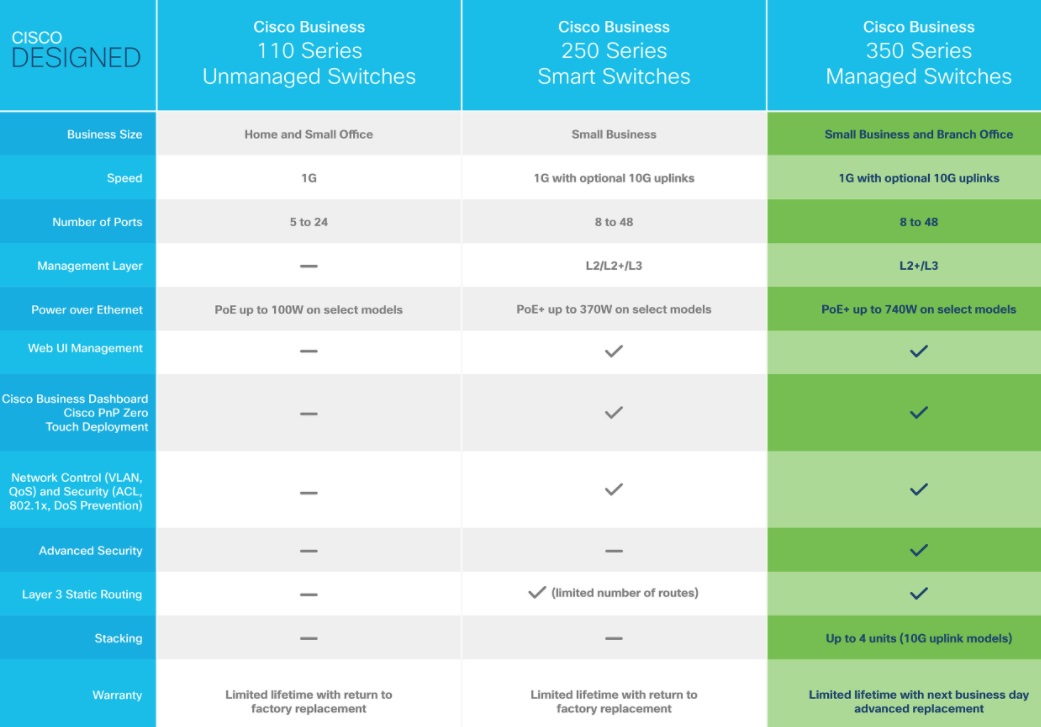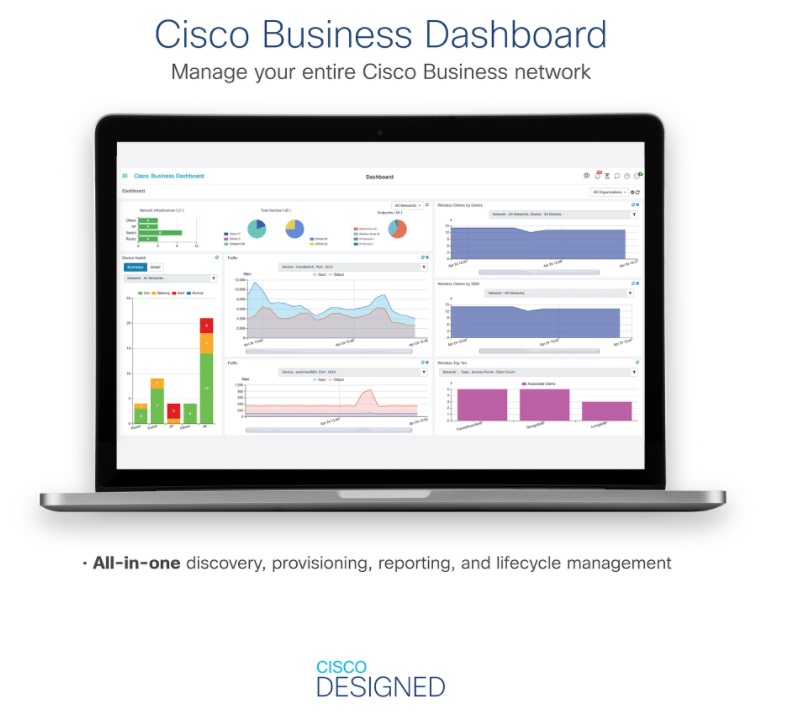 Cisco CBS350-8P-E-2G-UK CBS350 8 ports Gigabit PoE+ 67W with 2 copper/SFP combo
Item Code: WEB-ITM-0035
AED 1,177.00 (AED 1,177.00 / Unit)
To

click cisco business shop and click add to card on item there
Short Description
SWITCH PORTS: 8-Port Giga + 2 x 1GE copper/SFP combo
SIMPLE: Intuitive Cisco Business Dashboard or on-box U/I simplifies network operations and automates lifecycle management
POWER OVER ETHERNET: 8 PoE+ ports with 67W total power budget
SECUR: Integrated with IEEE 802.1X port security to control access to your network, Denial-of- Service (DoS) attack prevention increases network uptime during an attack, while extensive Access Control Lists (ACLs) protect the network from unauthorized users and guard against network attacks
CREATIVE DESIGN: Elegant and compact design, ideal for installation outside of wiring closet such as retail stores, open plan offices, and classrooms


CBS350-8P-E-2G Cisco Business Switch by Shouki Company
CBS350-8P-E-2G is here in our website with all its specifications. Dubai Partner of Cisco Shouki Company supplies Cisco Business Switch CBS350-8P-E-2G. The Cisco Business 350 Series Switches, part of the Cisco Business line of network solutions, is a portfolio of affordable managed switches that provides a critical building block for any small office network. Intuitive dashboard simplifies network setup, and advanced features accelerate digital transformation, while pervasive security protects business critical transactions. The CBS350 8PE provides the ideal combination of affordability and capabilities for small office and helps you create a more efficient, better-connected workforce.
General specification of CBS350-8P-E-2G


DHCP (options 12, 66, 67, 82, 129, and 150):
DHCP options facilitate tighter control from a central point (DHCP server) to obtain IP address, auto configuration (with configuration file download), DHCP relay, and host name
Secure Copy (SCP):
Securely transfer files to and from the switch CBS350-8P-E-2G
Auto configuration with Secure Copy (SCP) file download:
Enables secure mass deployment with protection of sensitive data
Text-editable config files:
Config files can be edited with a text editor and downloaded to another switch, facilitating easier mass deployment
Auto Smart ports:
Applies the intelligence delivered through the Smart port roles and applies it automatically to the port based on the devices discovered over Cisco Discovery Protocol or LLDP-MED. This facilitates zero-touch deployments for all models of Cisco Business Switch CBS350-8P-E-2G
More details about CBS350 8PE




Ease of Management and Deployment
Cisco Business Switch CBS350 8PE is designed to be easy to use and manage by commercial customers or the partners that serve them, including the following features:
● Cisco Business Dashboard is designed to manage Cisco Business switches, routers, and wireless access points. Cisco Business Dashboard simplifies traditional challenges in deploying and managing business networks while automating the deployment, monitoring, and life cycle management of the network. Cisco Business 350 Series switches support embedded probe for Cisco Business Dashboard, eliminating the need to set up a separate hardware or virtual machine on site. For more information, visit https://www.cisco.com/go/cbd
● The intuitive user interfaces reduce the time required to deploy, troubleshoot, and manage the network and allow you to support sophisticated capabilities without increasing IT head count.
● The switches also support Text view, a full Command-Line Interface (CLI) option for partners that prefer it.
● Support for Simple Network Management Protocol (SNMP) allows you to set up and manage your switches and other Cisco devices remotely from a network management station, improving IT workflow and mass configurations.


Product comparison for Cisco Business Switch CBS350-8P-E-2G


For more details you can go to the Cisco official website. You can also compare Cisco CBS350-8P-E-2G
with 2 related items SG110D-05 and SG110D-05
How to purchase Cisco CBS350 8PE


All CBS350-8P-E-2G and other related items are ready in Cisco Wholesaler in Dubai. If you are in Middle east countries like Abu Dhabi, Mauritius or Somalia, please feel free to contact us.