Engenius EnHero5 Wave 2 Managed AC1300 Indoor Wireless Access Point/Extender
SMB-Access Point Item Code: EnHero5
EnHero5 EnGenius Ultra Range Access Point by Shouki
EnHero5 is here in shouki website with all its specifications. Dubai distributor of Shouki Company supplies EnGenius EnHero5. It is an Ultra Range Access Point.
EnGenius Wireless Management Access Point solution is designed for deploying on the versatile indoor application. To meet today's requirement on varied net-working environment, EnGenius would like to provide the solution as flexible, robust and effective as the organization they desire.
The state-of-the-art 802.11ac and MU-MIMO technology brings revolutionary connecting speed and bandwidth for diversity of multimedia applications. EnHero5 equips with two powerful RF interfaces that support up to 867 Mbps in 5GHz frequency band and 400 Mbps in 2.4GHz frequency band (with 4ss/VHT40 clients).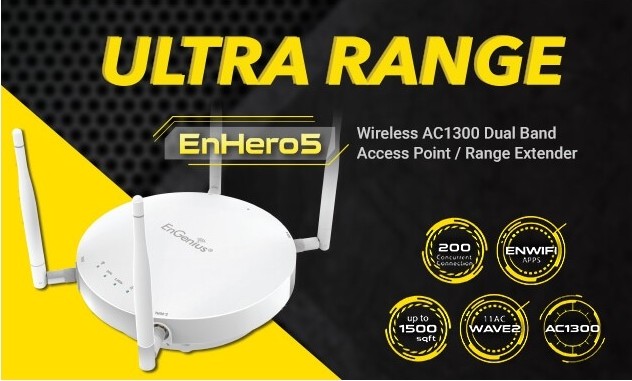 Benefits of EnHero5
·        
Built-in Turbo Engine solution with a Quadcore powerful chipset solution to process multiple tasks for driving and enhancing performance effectively
·        
Dual radio 2x2 802.11 ac wave2/ac/a/b/g/n Access Point with multi-user MIMO (MUMIMO)
·        
Support up to 867 Mbps in 5GHz frequency band and 400 Mbps in 2.4GHz frequency band (with 2ss/VHT40 clients)
·        
High powered amplifiers to improve the wireless coverage and uses a special radio frequency pattern to increase its receiver sensitivity for improved performance
·        
Support 802.11ac Wave 2.0 technology to enhance overall bandwidth and speed to wireless client devices
·        
External antennas interface for connecting to deliver signal to versatile applications
General specification of EnHero5
 Provide Consistent Performance
 Designed by EnGenius could provide the powerful RF interfaces to assure the reliability of signal strength and sensitivity in a pervasive environment. The optimist interfaces will provide the evenly coverage to assist users to reduce dead spots in their WLAN and boost received signal quality to deliver the best 1.26Gbps air performance to wireless client devices.
Securable Portals for Different Purpose
 EnGenius provides Captive Portal to differentiate the authority of users on using Internet access. Considering the value-added function, administrators offer a securable service to serve client devices including to encrypt over database of an authentication server, customized-branded splash of webpage, simplified logon service, and promoting content and using polices. Administrators can also use Virtual LAN (VLAN) with Guest Network to isolate each client for avoiding an unnecessary touch, leaking sensitive data, and enhancing Internet security and reliability.
 
Compare engenius EnHero5 with other products
How to order EnHero5
 All other related items are ready in Avaya Partner in Dubai. If you are in Middle east countries or cities like Zambia, Ethiopia and Pakistan please feel free to contact us.