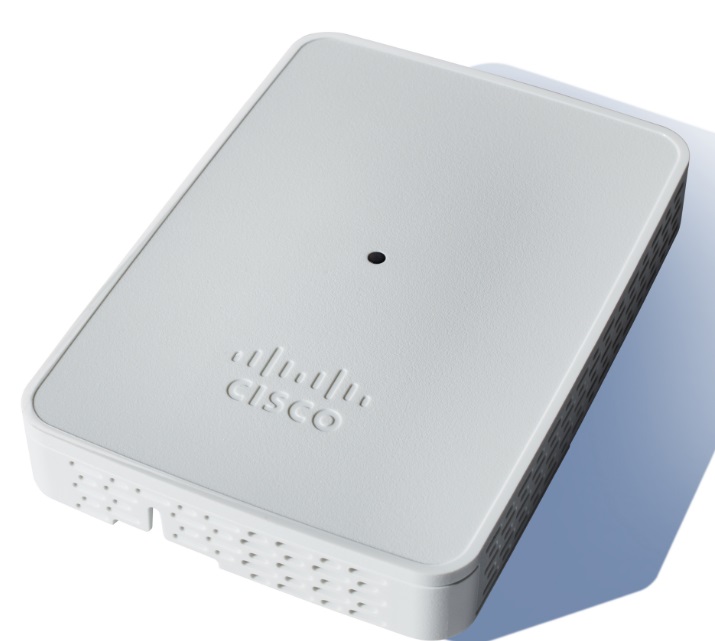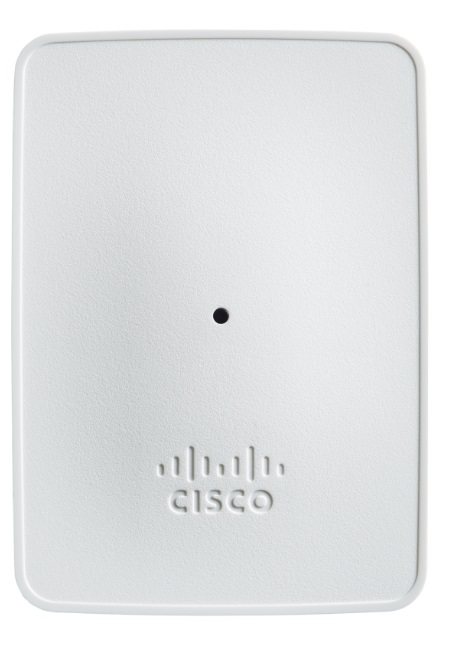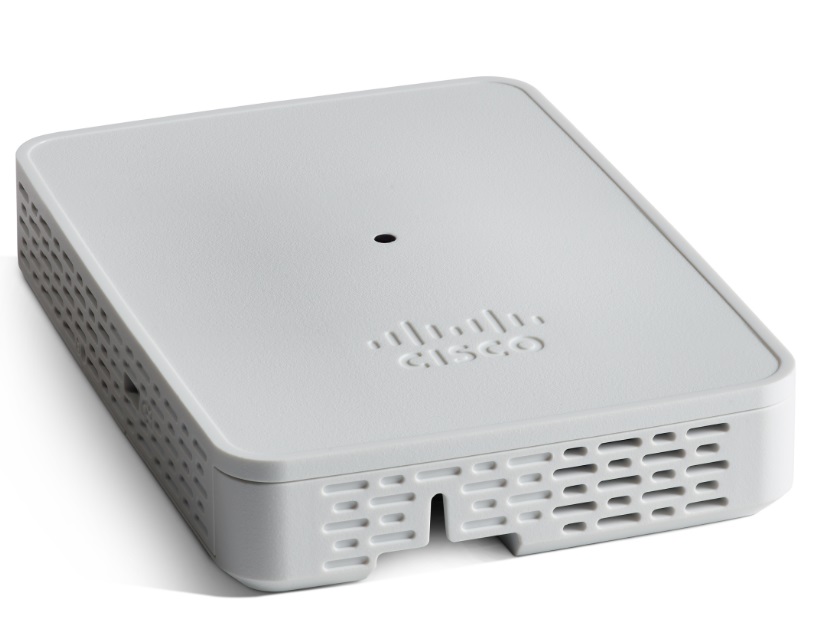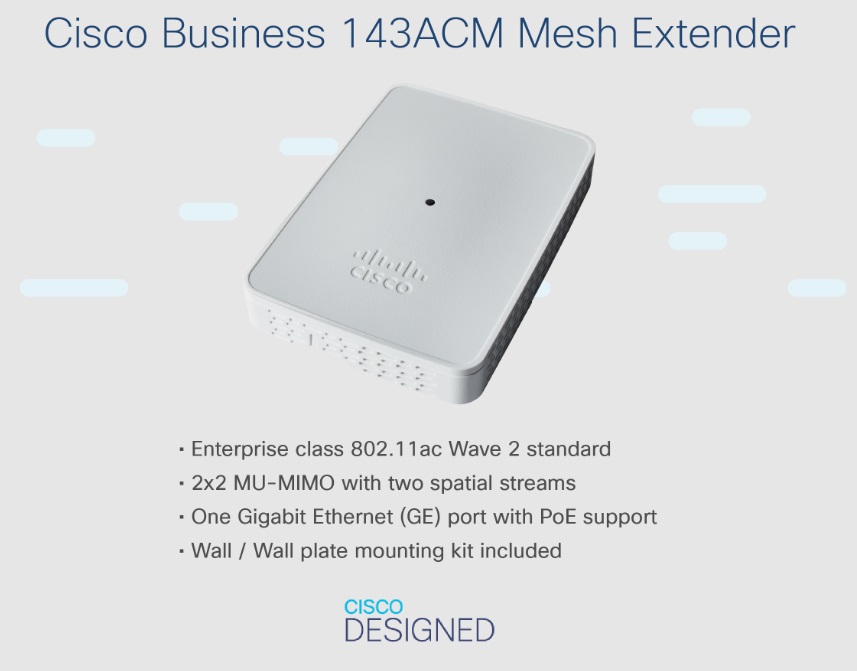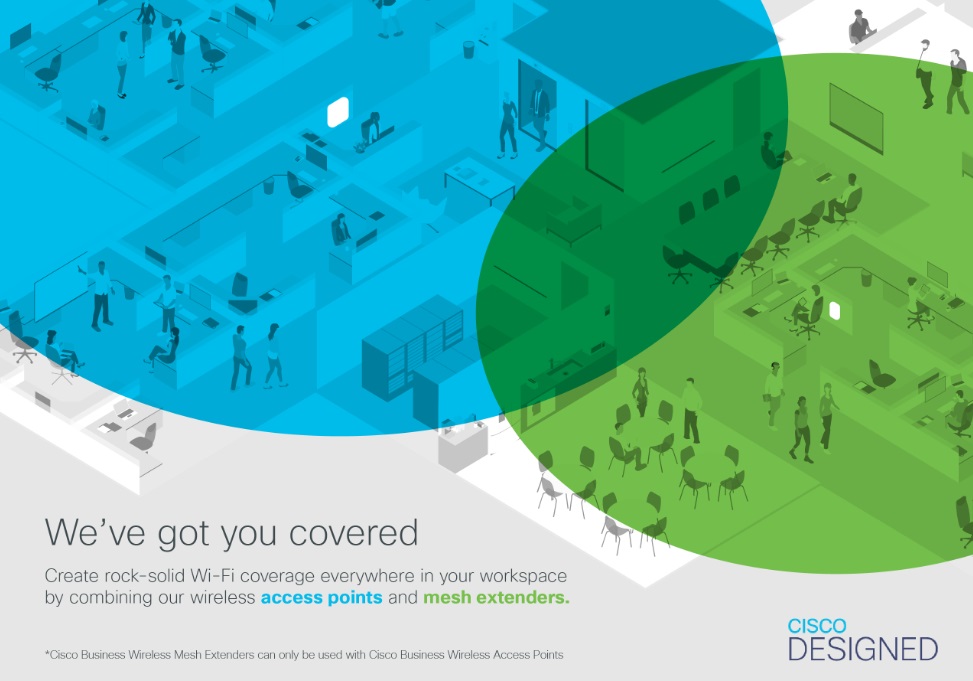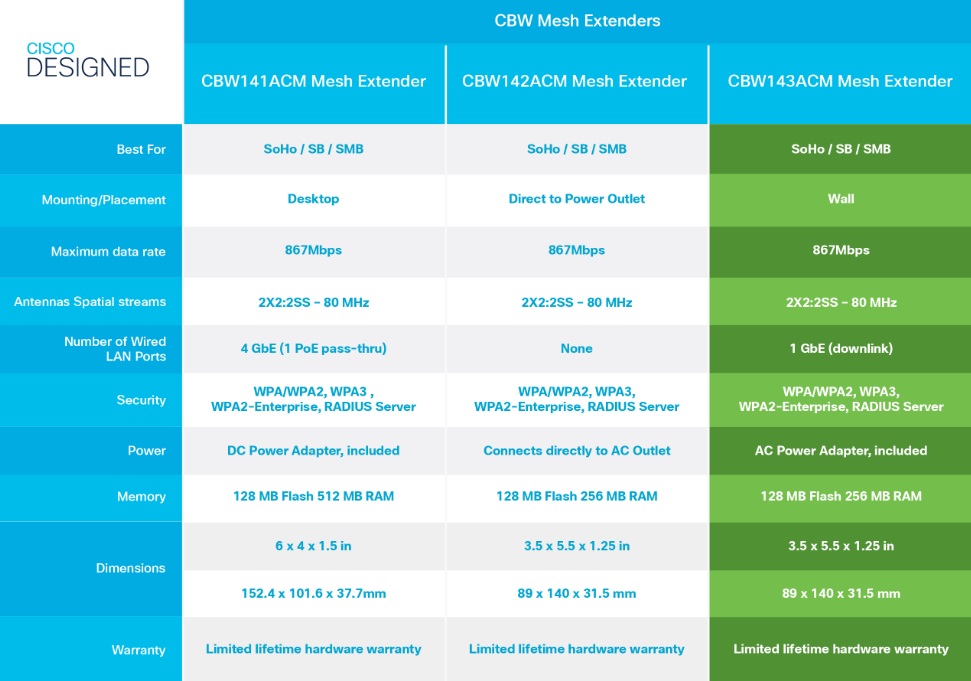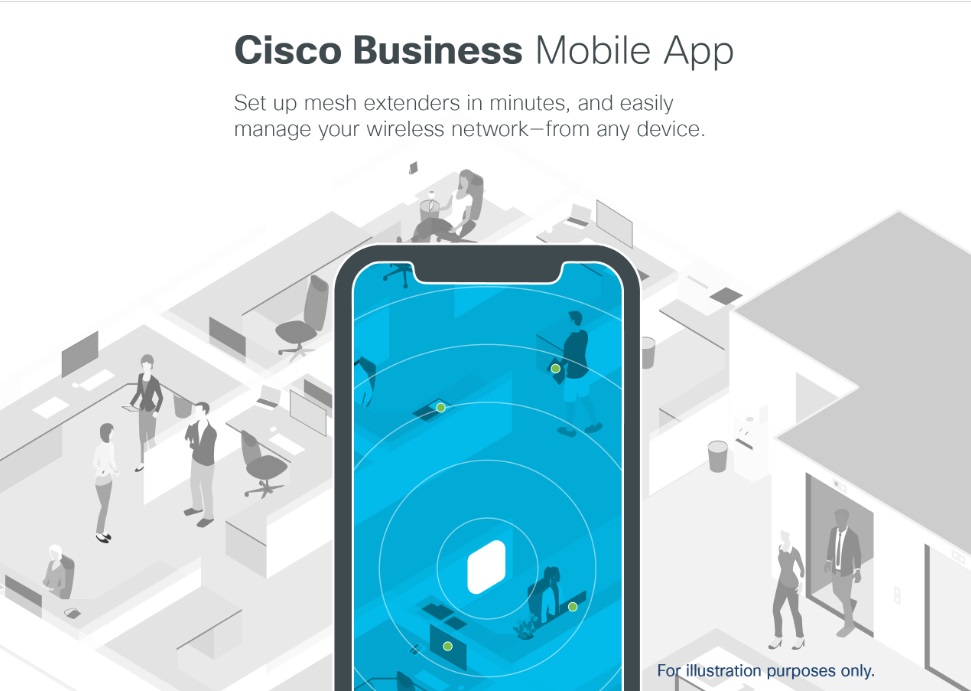 Cisco CBW143ACM-E-UK Business 143AC Wireless Extender-Wall Plate, 802.11ac Wave 2; 2x2:2 MIMO
Range Extender Item Code: CBW143ACM-E
AED 495.00 (AED 495.00 / Unit)
Short Description
IMPORTANT: The Cisco Business mesh extenders only work with Cisco Business Wireless 100 series and 200 series access points (CBW140AC-B, CBW240AC-B, and CBW145AC-B)
FLEXIBLE: Mix and match Cisco Business Wireless access points and these MU-MIMO (2x2) mesh extenders to increase your Wi-Fi coverage
QUICK SET UP: Scan a QR code with Cisco Business Mobile app and power on the device. No additional steps required
DEPLOYMENT: Simple wall mount powered by AC power adapter (Included)
PEACE OF MIND: One year technical support and limited lifetime warranty
CBW143ACM-E By Shouki in UAE
CBW143ACM-E is an easy- to- install wireless mesh extenders expands existing wireless coverage. Therefore, it's ideal for a small business and small office environment.
The CBW143ACM-E Mesh Extenders is managed by the Cisco Business Mobile app. In summary, it's an intuitive client application that simplifies traditional challenges associated with wireless network deployment, right from your mobile device. You can extend your network by adding new mesh extender s and automating wireless network activation in minute s. A robust management capability dynamically changes network configuration such as enabling guest access. Network usage, traffic patterns, and network throughput can be closely monitored, providing a real-time snapshot. Thus not only provides peace of mind, it virtually ensures optimal user experience. The Cisco Business Mobile app is available for iPhone, iPad, and Android devices.
Increased wireless performance
The Cisco Business 100 Series Mesh Extenders support the latest 802.11 ac Wave 2 standard for higher performance, greater access, and higher- density networks. Thus with simultaneous dual radios and dual bands with 802.11 ac Wave 2 MU- M. I. M. O functionality, CBW143ACM-E mesh extenders, in conjunction with a Cisco Business access point, provide seamless connectivity.
Maximum number of non-overlapping channels
412 to 2.472 GHz; 13 channels
180 to 5.320 GHz; 8 channels
500 to 5.700 GHz; 8 channels
(excludes 5.600 to 5.640 GHz)
Ethernet Ports: 1
Power Input: 100-240V 50/60Hz AC Power
Dimensions: Access point (without mounting bracket): 3.25 x 4.5 x 0.75 in (82.5 x 114 x 19 mm)
Weight: Access point without mounting bracket or any other accessories: 10 oz (280 g)
Buy CBW143ACM-E in UAE
In conclusion, CBW143ACM-E offers highly secure wired and wireless connectivity to the home office or small office, and work in hard- to- reach places. You can easily buy CBW143ACM-E in UAE and Dubai through our shop.
CBW143ACM 802.11 ac 2x2 Wave 2 Mesh Extender Wall Mount comes with limited lifetime warranty. In brief this optional subscription- based, device- level service offers affordable, 3-year peace-of-mind coverage. It helps you protect your investment and derive maximum value from Cisco Business products.