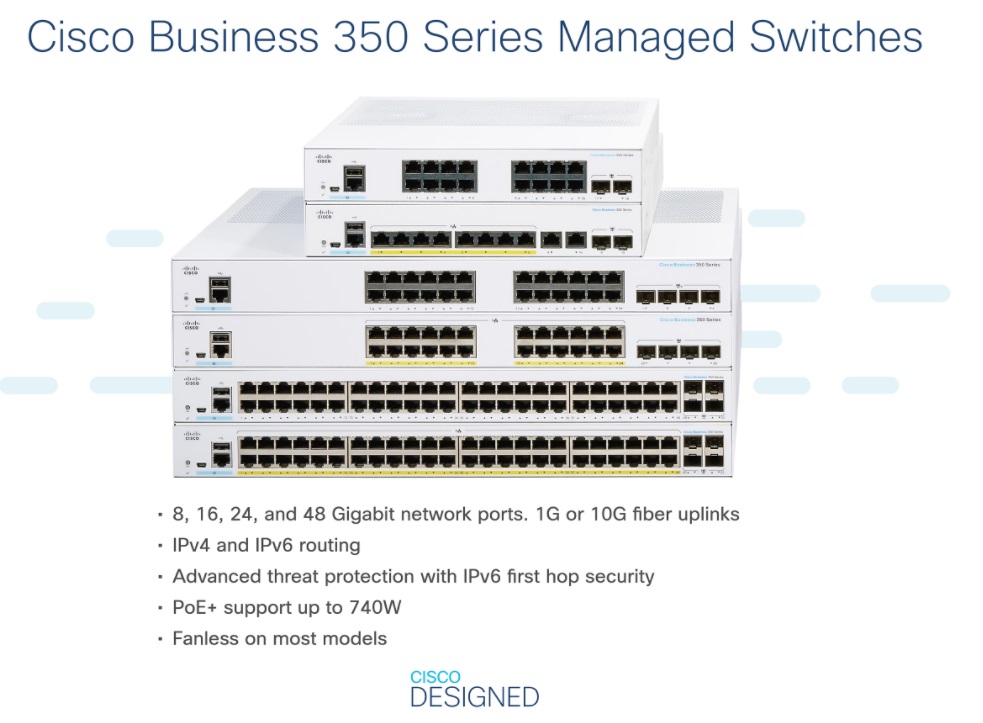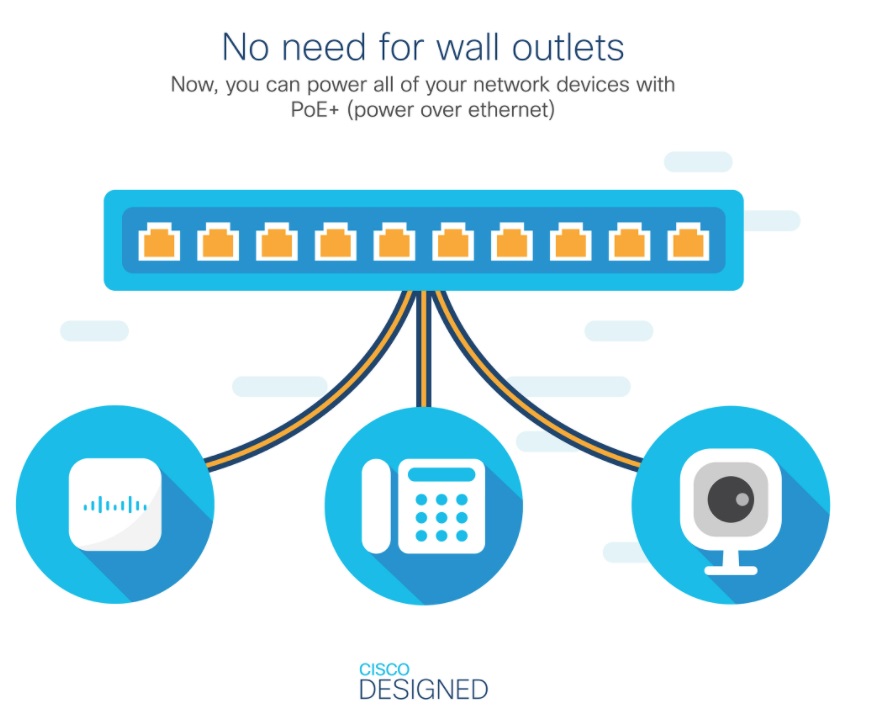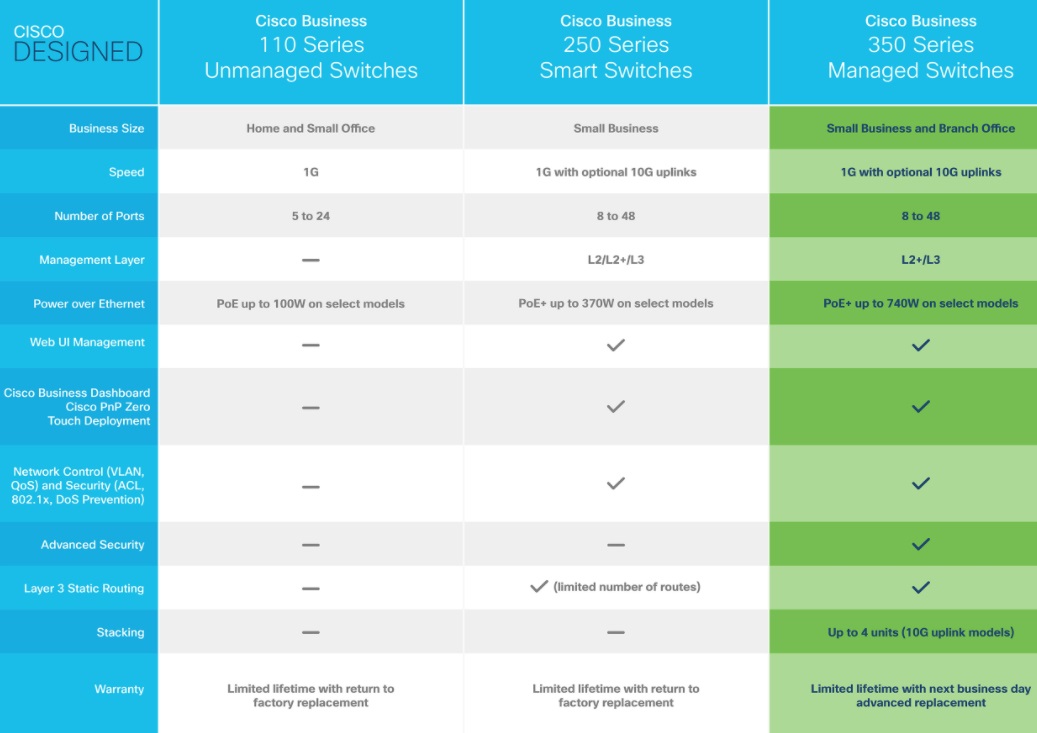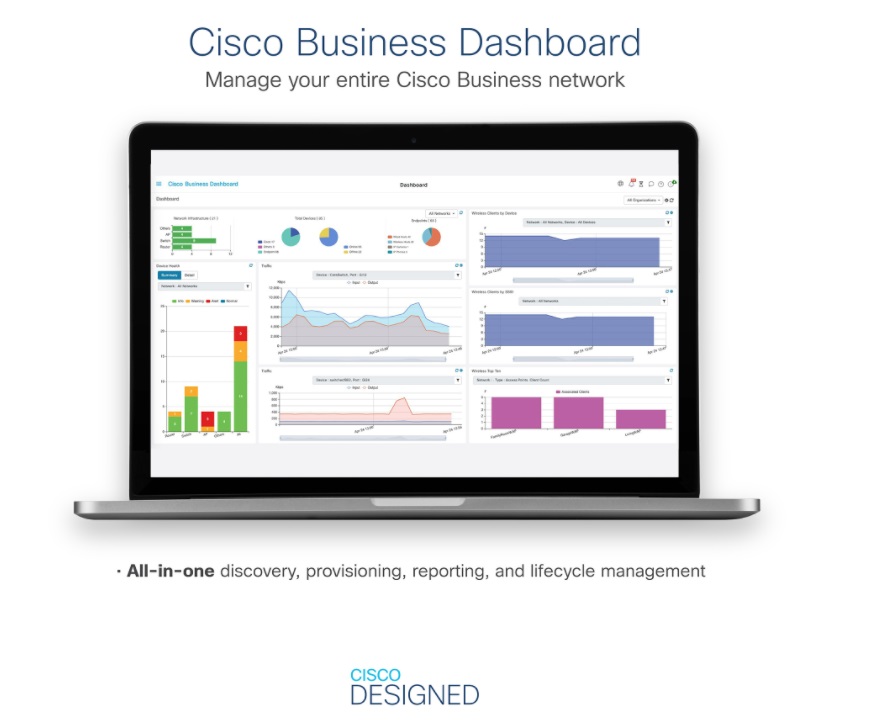 Cisco CBS350-24P-4X-UK CBS350 24 ports Gigabit PoE+ 195W with 4 ports 10 Gigabit SFP+
Item Code: WEB-ITM-2188
AED 3,613.00 (AED 3,613.00 / Unit)
To

click cisco business shop and click add to card on item there
Short Description
SWITCH PORTS: 24-Port Giga + 4 x 10G SFP+
SIMPLE: Intuitive Cisco Business Dashboard or on-box U/I simplifies network operations and automates lifecycle management
POWER OVER ETHERNET: 24PoE+ ports with 195Wtotal power budget
ENHANCED SECURITY: IP-MAC port biding detects and blocks deliberate network attacks. IPv6 First Hop Security provides unparalleled protection against a vast range of address spoofing and man-in-the-middle attacks on IPv6 networks
CREATIVE DESIGN: Elegant and compact design, ideal for installation outside of wiring closet such as retail stores, open plan offices, and classrooms


CBS350-24P-4X By Shouki In UAE
Your business needs advanced networking features and security for your digital transformation yet value is still a top consideration. Given that you're ready for the new generation of managed switches: The Cisco Business Switch CBS350-24P-4X
High Reliability and Resiliency
In a growing business availability 24 hours a day, 7 days a week is critical. Thus you need to ensure business continuity and that employees can always access the data and resources they need. Cisco CBS350-24P-4X switches support dual images, allowing you to perform software upgrades without having to take the network offline. Also you don't need to worry about the network going down during the upgrade.
Highly secure guest connectivity
Cisco CBS350-24P-4X let you extend highly secure network connectivity to guests in a variety of settings. Its suitable for places such as a hotel, an office waiting room, or any other area open to nonemployee users. It uses powerful but easy- to- configure security and traffic segmentation capabilities. So you can isolate your vital business traffic from guest services and keep guests' network sessions private from each other.
Secure office connectivity
Cisco CBS350-24P-4X can simply and securely connect employees working in small offices with each other. It can also connect them to all of the servers, printers, and other networking devices they use. High performance and reliable connectivity help speed file transfers and data processing, improve network uptime. It also keeps your employees connected and productive.
Power over Ethernet CBS350-24P-4X
Cisco CBS350-24P-4X switches are available with 24 Power over Ethernet (P.o.E) ports. This capability simplifies advanced technology deployments such as IP telephony, wireless, and IP surveillance. Doing so by allowing you to connect and power network endpoints over a single Ethernet cable. You don't need to install separate power supplies for IP phones or wireless access points. hence you can take advantage of advanced communications technologies more quickly and at a lower cost. CBS350-24P-4X support 802.3 af P.o.E and 802.3 at P.o.E+.
Cisco CBS350-24P-4X Ports
-24 10/100/1000 P.o.E+ ports with 195W power budget
-4 10 Gigabit SFP+
Physical dimensions and weight:
445 x 299 x 44 mm (17.5 x 11.76 x 1.73 in)
3.68 kg (8.11 lb)
Cisco has insisted on energy efficiency. So to save energy, CBS350-24P-4X doesn't have any fan.