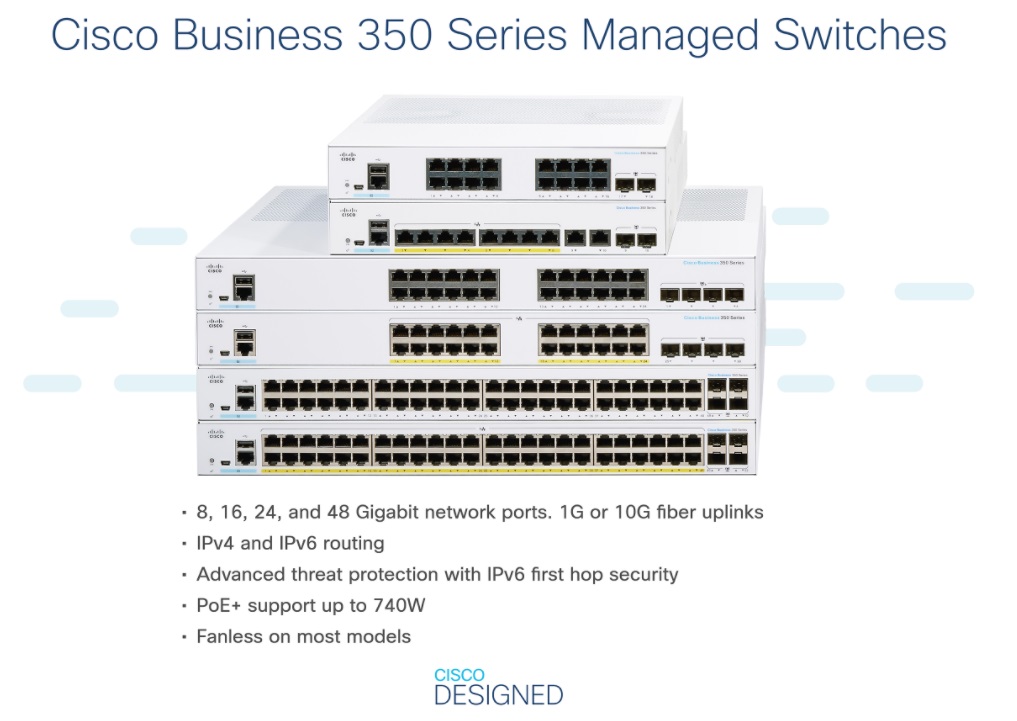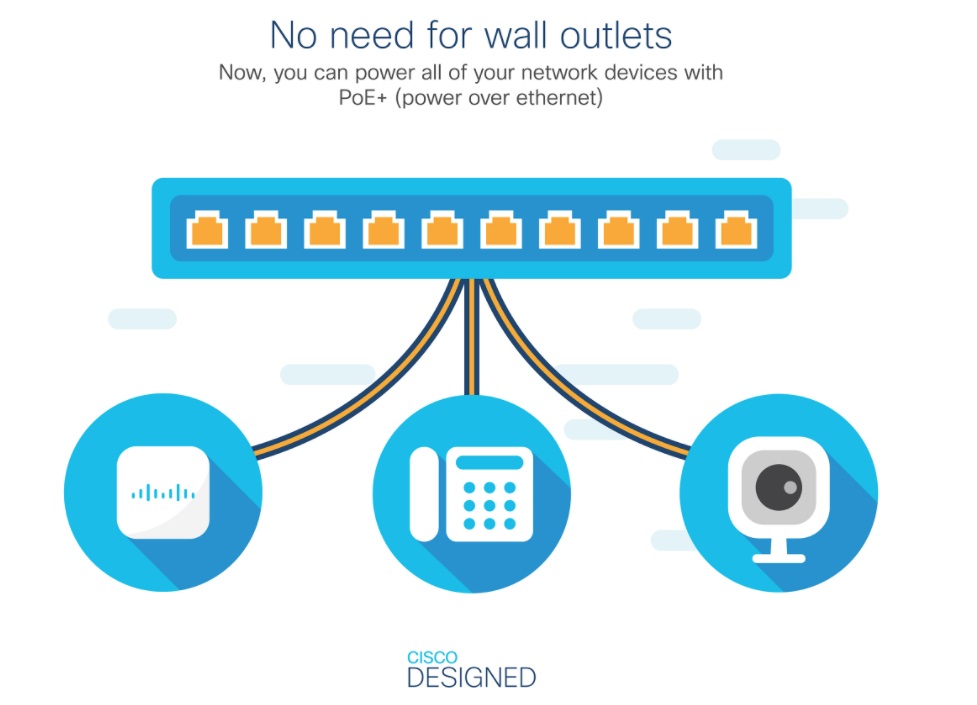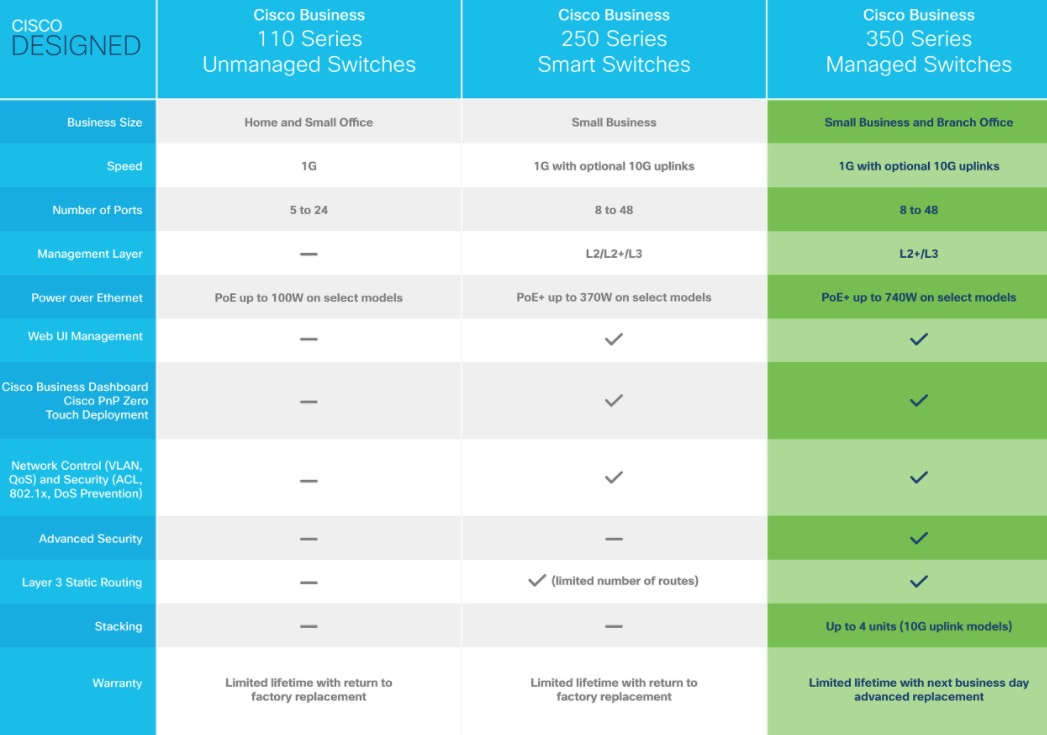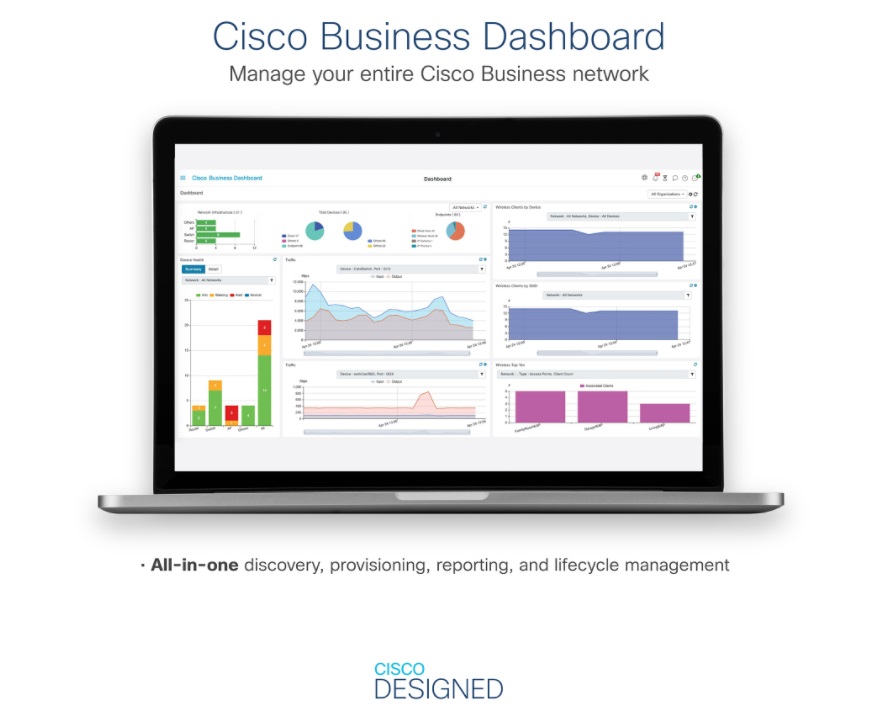 Cisco CBS350-48P-4X-UK CBS350 48 ports Gigabit PoE+ 370W with 4 ports 10 Gigabit SFP+
Item Code: WEB-ITM-2642
AED 5,890.00 (AED 5,890.00 / Unit)
To

click cisco business shop and click add to card on item there
Short Description
SWITCH PORTS: 48-Port Giga + 4 x 10G SFP+
SIMPLE: Intuitive Cisco Business Dashboard or on-box U/I simplifies network operations and automates lifecycle management
POWER OVER ETHERNET: 48 PoE+ ports with 370W total power budget
ENHANCED SECURITY: IP-MAC port biding detects and blocks deliberate network attacks. IPv6 First Hop Security provides unparalleled protection against a vast range of address spoofing and man-in-the-middle attacks on IPv6 networks
CREATIVE DESIGN: Elegant and compact design, ideal for installation outside of wiring closet such as retail stores, open plan offices, and classrooms


CBS350-48P-4X Cisco Business Switch by Shouki Company
CBS350-48P-4X is here in shouki website with all its specifications. Dubai Partner of Cisco Shouki Company supplies Cisco Business Switch CBS350-48P-4X. To stay ahead in a competitive marketplace, businesses need to make every dollar count. That means getting the most value from your technology investments, but it also means making sure that employees have fast, reliable access to the business tools and information they need. Every minute an employee waits for an unresponsive application and every minute your network is down has an effect on your profits. The importance of maintaining a strong and dependable business network only grows as your business adds more employees, applications, and network complexity.
General specification of CBS350 48P 4X


Energy Detect:
Automatically turns power off on RJ-45 port when detecting link down. Active mode is resumed without loss of any packets when the switch detects the link up for all CBS350 48P 4X
Cable length detection:
Adjusts the signal strength based on the cable length. Reduces the power consumption for shorter cables.
EEE Compliant (802.3az):
Supports IEEE 802.3az on all copper Gigabit Ethernet ports
Disable port LEDs:
LEDs can be manually turned off to save on energy
Time-based port operation:
Link up or down based on user-defined schedule (when the port is administratively up) specially for Cisco Business Switch CBS350-48P-4X
More details about Cisco Business Switch CBS350-48P-4X


Strong Security
Cisco Business Switch CBS350 48P 4X Switches provide the advanced security features you need to protect your business data and keep unauthorized users off the network:
● Embedded Secure Sockets Layer (SSL) encryption protects management data traveling to and from the switch.
● Support for advanced network security applications such as IEEE 802.1X port security tightly limits access to specific segments of your network. Web-based authentication provides a consistent interface to authenticate all types of host devices and operating systems, without the complexity of deploying IEEE 802.1X clients on each endpoint.
● Advanced defense mechanisms, including dynamic Address Resolution Protocol (ARP) inspection, IP Source Guard, and Dynamic Host Configuration Protocol (DHCP) snooping, detect and block deliberate network attacks. Combinations of these protocols are also referred to as IP-MAC port binding (IPMB).
● IPv6 First Hop Security extends the advanced threat protection to IPv6. This comprehensive security suite includes ND inspection, RA guard, DHCPv6 guard, and neighbor binding integrity check, providing unparalleled protection against a vast range of address spoofing and man-in-the-middle attacks on IPv6 networks.
● Secure Core Technology (SCT) helps ensure that the switch is able to process management traffic in the face of a Denial-of-Service (DoS) attack.


Product comparison for Cisco Business Switch CBS350-48P-4X


For more details you can go to the Cisco official website. You can also compare Cisco CBS350-48P-4X
with 2 related items SG350-20-K9 and SG350X-24-K9
How to purchase Cisco CBS350-48P-4X
All Cisco CBS350 48P 4X and other related items are ready in Cisco Wholesaler in Dubai. If you are in Middle east countries like Abu Dhabi, Mauritius or Somalia, please feel free to contact us.