Poly Studio - video conferencing device
Video Conference Item Code: 7200-85830-001
Poly studio video conference supplies by Shouki Company 
Poly studio is here in shouki website with all its specifications. Dubai distributor of Shouki supplies it. It is a video Conference; 7200-85830.
Meet Poly Studio, the premium USB video bar built for small rooms and big ideas. Delivering the best audio quality in its class, it blocks distracting sounds that can interrupt meetings. Teams on both ends of the call catch every word. With group framing and automatic speaker tracking, the connection feels personal. They see all the important details, too—right down to body language and facial expressions. Easy to manage? Of course. The cloud-based management tools let IT push software updates and make settings changes without ever leaving their desk. Poly Studio. The shortcut to better huddle room collaboration.
• Acoustic Fence keeps voices outside the room from interrupting your calls
 • Up to 3.7 m/12 ft microphone pickup range
 • Smart-camera experiences are built in—no drivers or software needed
• Centralized management enables high-scale deployments
• Works with nearly any video platform for
poly studio video conference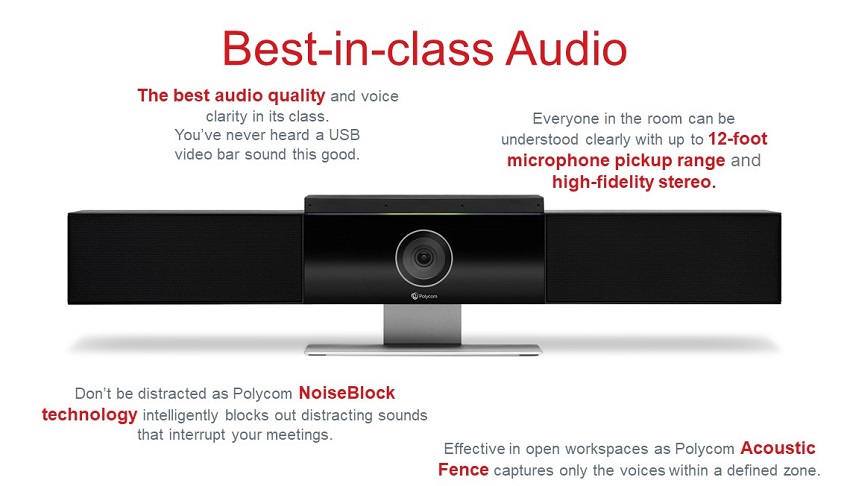 Benefits of Poly studio


 • You've never heard a USB video bar sound this good—Poly Studio has the absolute best audio quality and voice clarity in its class
• Distracting sounds are eliminated by our patented Noise-Block technology—and this is the only USB video bar that does it specially for poly 7200-85830
 • Be more productive on both ends of your video conference with a smart camera that automatically frames the room or tracks the person speaking for deeper engagement
 • Eliminate "sneaker-net" with centralized management, enabling high-scale deployments without added burden on IT 
General specification of poly studio video conference
AUDIO
• Poly Acoustic Clarity technology provides full-duplex conversations, acoustic echo cancellation and background noise suppression
• Poly Noise-Block technology
 • Poly Acoustic Fence technology
• Mute/unmute controls specially for
7200-85830
• Stereo microphones: - 6-element beamforming microphone array - 12 ft pickup range - 120 Hz–16 kHz frequency response
• Stereo speakers: - 100 Hz–20 KHz frequency response - Output = 90 dB @ 0.5m
 
Compare poly 7200-85830 with other products
How to order 7200-85830
All poly studio video conference and other related items are ready in Avaya Partner in Dubai. If you are in Middle east countries or cities like Afghanistan, Uzbekistan and Ajman please feel free to contact us.