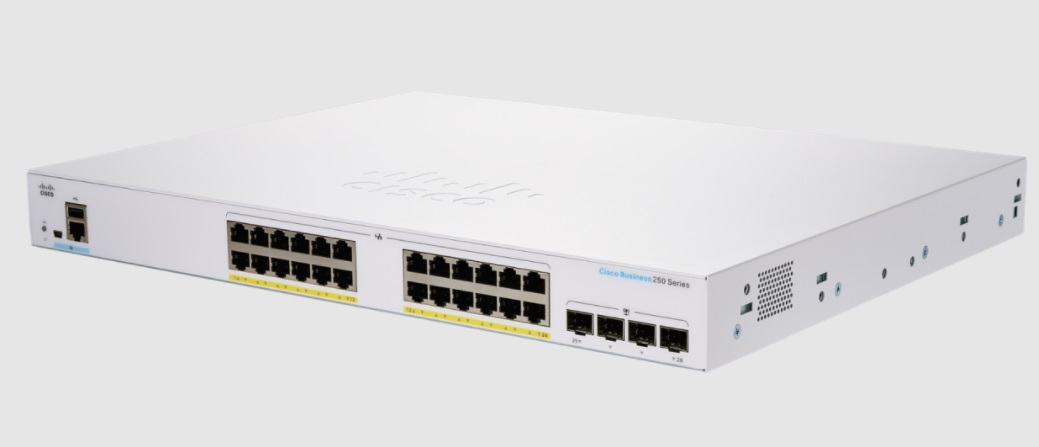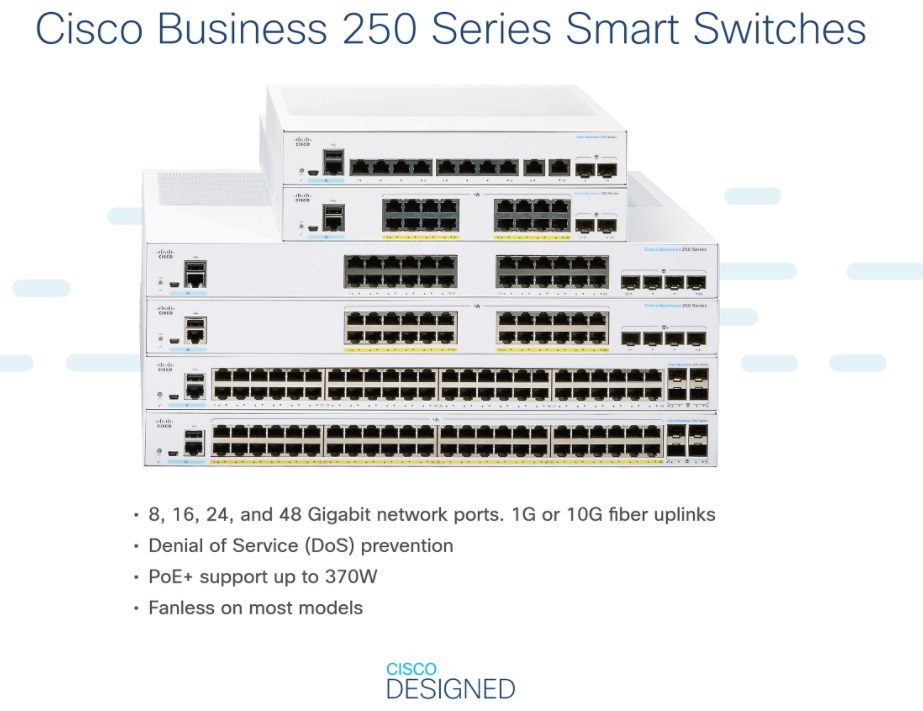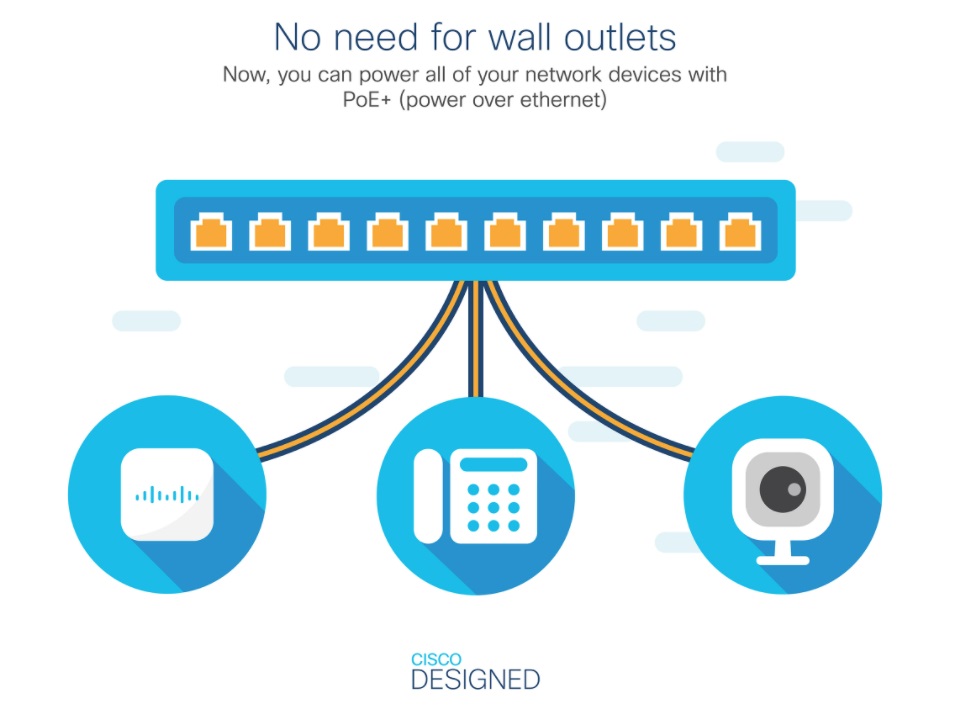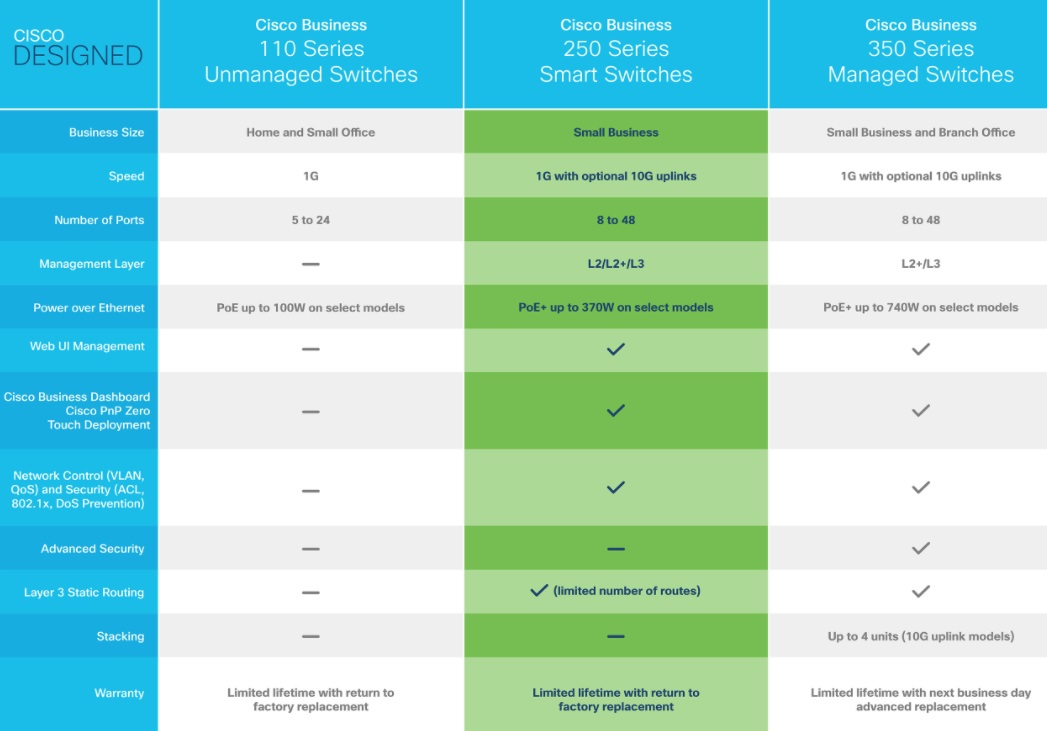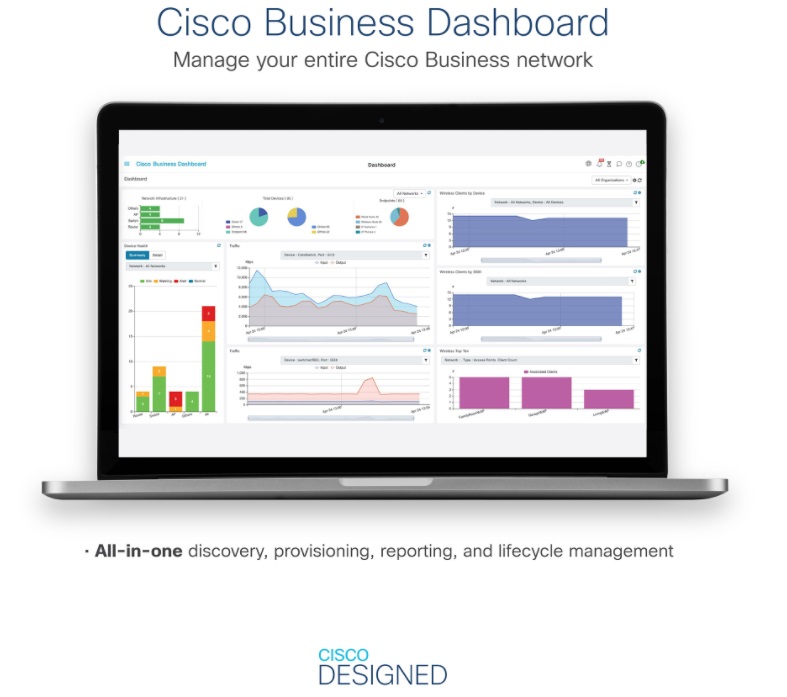 Cisco CBS250-24FP-4G-UK CBS250 24 ports Gigabit PoE+ 370W with 4 SFP ports
SMB-Managed POE Switches Item Code: CBS250-24FP-4G
AED 2,775.00 (AED 2,775.00 / Unit)
To

click cisco business shop and click add to card on item there
Short Description
SWITCH PORTS: 24-Port Giga + 4 x 1GE SFP
EFFORTLESS: Intuitive Cisco Business Dashboard or on-box U/I simplifies network operations and automates lifecycle management
POWER OVER ETHERNET: 24 PoE+ ports with 370W total power budget
SECUR: Integrated with IEEE 802.1X port security to control access to your network, Denial-of- Service (DoS) attack prevention increases network uptime during an attack, while extensive Access Control Lists (ACLs) protect the network from unauthorized users and guard against network attacks
CREATIVE DESIGN: Elegant and compact design, ideal for installation outside of wiring closet such as retail stores, open plan offices, and classrooms
Cisco CBS250-24FP-4G By Shouki In Dubai
As you strive to make your business more competitive and efficient, every dollar counts. Cisco Business Switch CBS250-24FP-4G gives you just the right the features, performance, and reliability you need. More importantly you have to pay for advanced features you don't need. With Cisco CBS250-24FP-4G switches, you can rest assured that your business applications and communications tools are resting on a strong technology foundation. So you can focus on achieving your business goals.
Secure Sensitive Data (S. S. D)
A mechanism to manage sensitive data (such as passwords, keys, and so on) securely on the switch. This technology populates this data to other devices, and secure auto config. Access to view the sensitive data as plain text or encrypted is provided according to the user-configured access level and the access method of the user.
IPv6 support:
As the IP network addressing scheme evolves to accommodate more devices, you can have peace of mind that your network is ready. Cisco Business Switch CBS250-24FP-4G provides native support for IPv6 alongside traditional IPv4. With USGv6 and IPv6 Gold Logo certifications, these switches will enable you to take full advantage of IPv6-enabled applications in the future. And you can do so without having to upgrade your network equipment.
Cisco CBS250-24FP-4G Ports
-24 10/100/1000 PoE+ ports with 370W power budget
-4 10 Gigabit SFP+
Cisco CBS250-24FP-4G is one of most efficient switches in stock. Thus it has many features that cut short power usage and help you decrease your power bills. These said features include:
- Automatic power shutoff on ports.
- Embedded intelligence to adjust power based on cable length.
- Support for the Energy Efficient Ethernet (IEEE 802.3az) standard
Peace of mind and investment protection:
Cisco CBS250-24FP-4G switches offer the reliable performance, investment protection, and peace of mind you expect from a Cisco switch. Also Complementary one-year access to our Small Business Support Center for ongoing support. Limited lifetime warranty with return to factory replacement keeps your business running smoothly.
Cisco CBS250-24FP-4G physical dimensions and weight:
445 x 345 x 44 mm (17.5 x 13.59 x 1.73 in)
4.6 kg (10.14 lb)