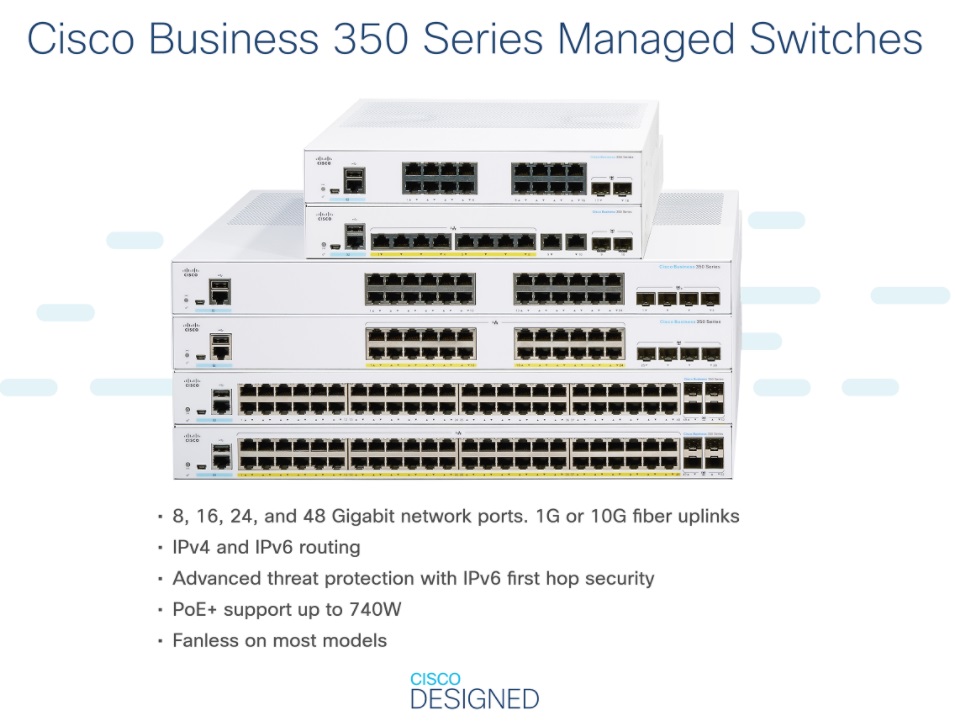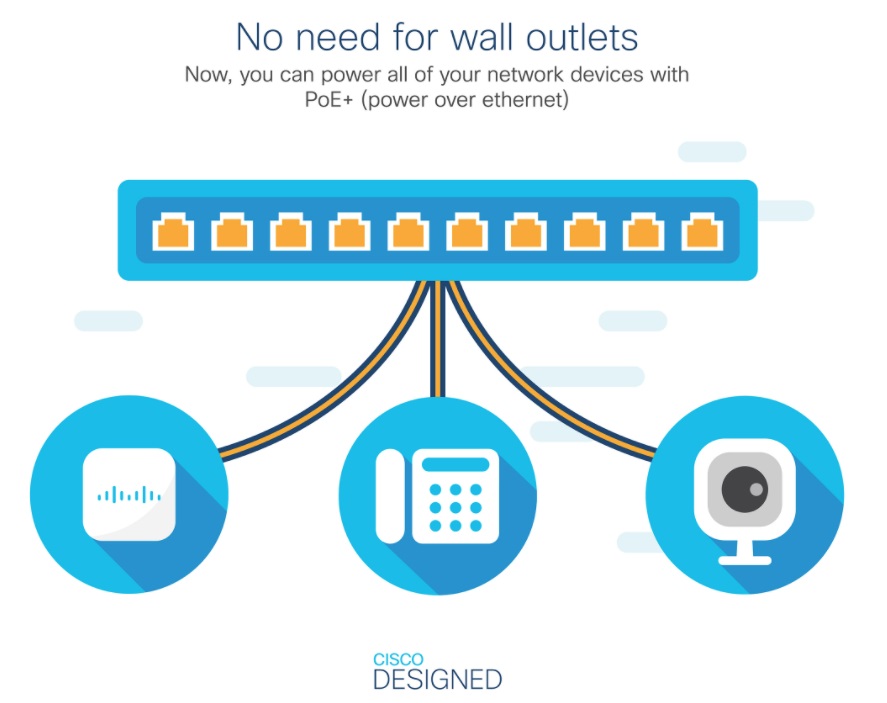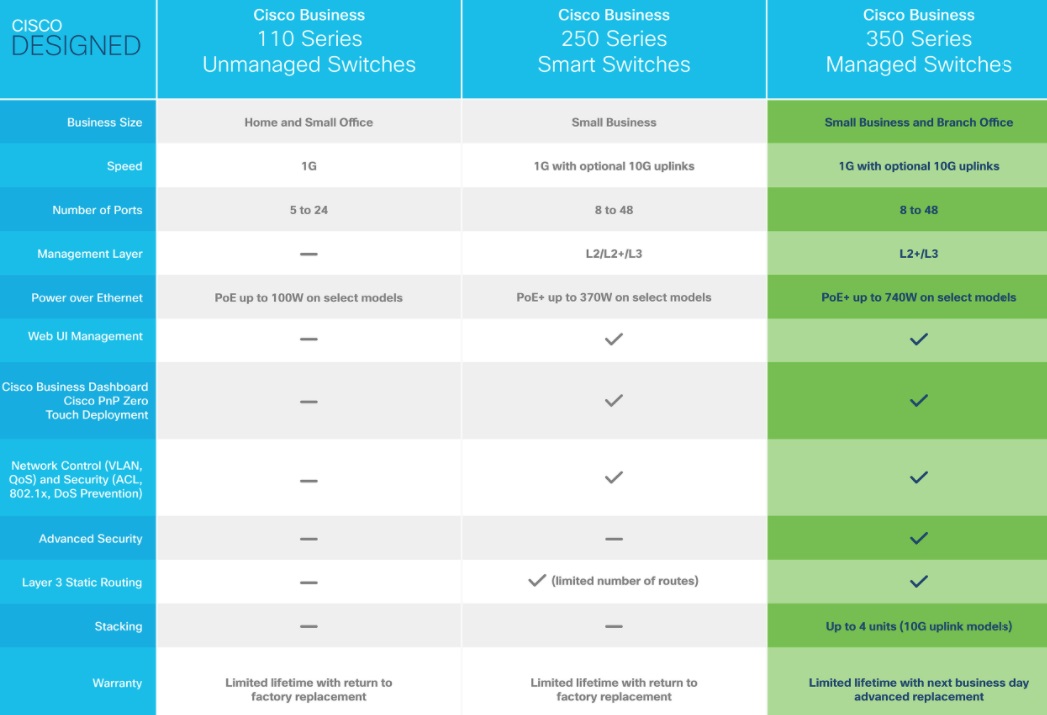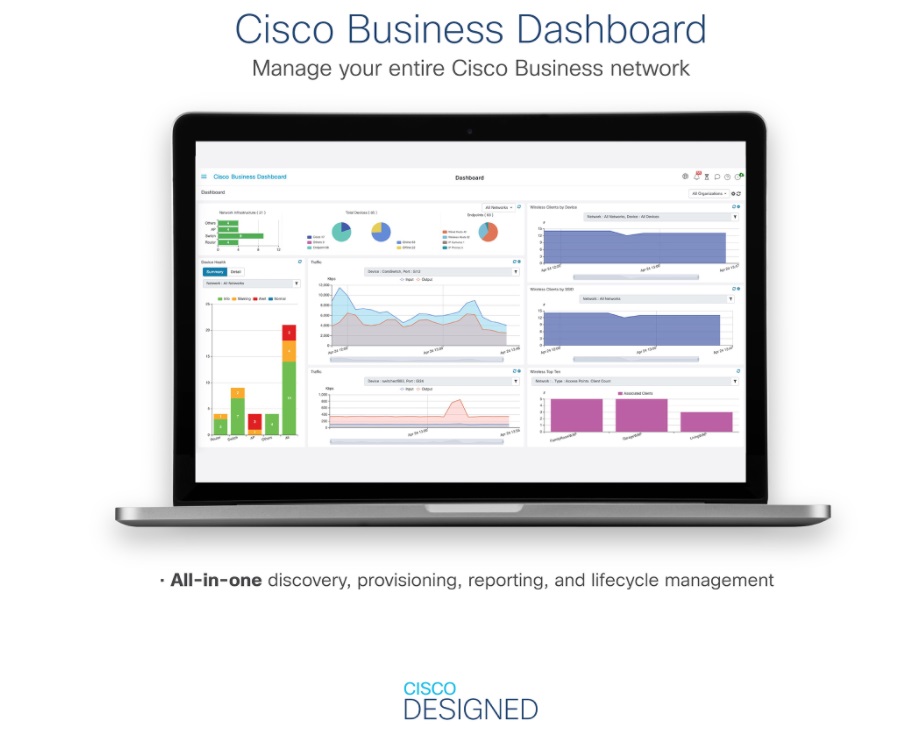 Cisco CBS350-24P-4G-UK CBS350 24 ports Gigabit PoE+ 195W with 4 SFP ports
SMB-Managed POE Switches Item Code: CBS350-24P-4G
AED 2,350.00
(AED 2,350.00 / Unit)
Short Description
SWITCH PORTS: 24-Port Giga + 4 x 1GE SFP
SIMPLE: Intuitive Cisco Business Dashboard or on-box U/I simplifies network operations and automates lifecycle management
POWER OVER ETHERNET: 24 PoE+ ports with 195Wtotal power budget,
ENHANCED SECURITY: IP-MAC port biding detects and blocks deliberate network attacks. IPv6 First Hop Security provides unparalleled protection against a vast range of address spoofing and man-in-the-middle attacks on IPv6 networks
CREATIVE DESIGN: Elegant and compact design, ideal for installation outside of wiring closet such as retail stores, open plan offices, and classrooms


CBS350-24P-4G By Shouki In Dubai
To stay ahead in a competitive marketplace, businesses need to make every dollar count. That means getting the most value from your technology investments. But it also means making sure that employees have fast, reliable access to the business tools and information they need. Every minute an employee waits for an unresponsive application and every minute your network is down effects your profits. The importance of maintaining a strong and dependable business network only grows as your business adds more employees, applications, and network complexity. Whether you need a basic high- performance network to connect employee computers or a solution to deliver data, voice, and video services, the Cisco Business Switch CBS350-24P-4G offers a solution to meet your needs.
Cisco CBS350-24P-4G has 28 Gigabit Ethernet ports which 4 of them are for S.F.P.
Network wide Automatic Voice Deployment
Using a combination of Cisco Discovery Protocol, Link Layer Discovery Protocol- Media Endpoint Discovery (L.L.D.P-M.E.D), Auto Smart ports, and Voice Services Discovery Protocol (or V.S.D.P, a unique Cisco protocol), customers can deploy an end- to- end voice network dynamically. The switches in the network automatically converge around a single voice Virtual Local Area Network (V.L.A.N) and Quality of Service (Q.o.S) parameters. Then it propagates them out to the phones on the ports, where they are discovered. For example, automated voice V.L.A.N capabilities let you plug any IP phone (including third-party phones) into your IP telephony network and receive an immediate dial tone. The switch automatically configures the device with the right VLAN and Q.o.S parameters to prioritize voice traffic.
IPv6 Support
As the IP address scheme evolves to accommodate a growing number of network devices, Cisco CBS350-24P-4G can support the transition to the next generation of networking. These switches continue to support previous- generation IPv4. So you have time to evolve to the new IP v6 standard at your own pace. Thus helping you ensure that your current network will continue to support your business applications in the future. Cisco Business Switch CBS350-24P-4G has successfully completed rigorous IP v6 testing and have received the USGv6 and IPv6 Gold certification.
Cisco CBS350-24P-4G Ports
-24 10/100/1000 P.o.E+ ports with 195W power budget
-4 Gigabit S.F.P
Cisco CBS350-24P-4G Physical dimensions and weight:
445 x 299 x 44 mm (17.5 x 11.76 x 1.73 in)
3.53 kg (7.78 lb)
To make CBS350-24P-4G more energy efficient, it doesn't have any fan.
| | |
| --- | --- |
| Per-port PoE scheduling/timers | yes |
| Bonjour Discovery | yes |
| Fan(s) (temperature- and load-based speed control) | None |
| IPv6 management | yes |
| Combo Ports (RJ‑45 + SFP) | 4 |
| Auto-VoIP VLAN / Auto-Voice VLAN | yes |
| Unit Dimensions | 440 x 44 x 257 mm |
| RADIUS accounting | yes |
| Active VLANs | 4096 |
| HTTP/TLS Web-based access | yes |
| Switching | Layer 3 ,2 |
| Auto Power Down | yes |
| USB port | 1 |
| Max power (worst case, all ports used, full PoE, line-rate traffic) | None |
| Supported SFP modules | MGBSX1 ,MGBLH1 ,MGBT1 |
| Altitude | None |
| Manual Static LAG | None |
| Bandwidth (non-blocking, full duplex) | None |
| Switching capacity | 20 Gbps |
| Cloud management / Remote Monitoring | None |
| Dual software (firmware) image | yes |
| Control MAC # Static entries | None |
| Heat Dissipation (max w/full PoE & standby) (BTU/hr) | None |
| Cable test utility | None |
| Control MAC # Dynamic learned entries | None |
| Power Budget | 62 /128 / 195 /382 W |
| Mounting options | None |
| TCP/UDP-based ACLs | None |
| IPv4 and IPv6 DSCP | None |
| multi site or network single pane of view | None |
| Centralized network configuration | None |
| IEEE 802.1D Spanning Tree Protocol | None |
| RADIUS-based VLAN assignment via .1x | None |
| L2 IEEE 802.1Q VLAN tagging | None |
| monitoring and configuration and Setup | None |
| Operating temperature | None |
| Number of VLANs | None |
| Networking monitoring | None |
| Weight | None |
| Destination MAC and IP | None |
| Energy Efficient Ethernet (EEE) IEEE 802.3az | yes |
| Password management | yes |
| Local-only web browser-based management GUI | None |
Cisco CBS350-24P-4G Physical dimensions and weight: 445 x 299 x 44 mm (17.5 x 11.76 x 1.73 in) 3.53 kg (7.78 lb)